Iggy Azalea and Drake's OVO labelmate PartyNextDoor have sparked dating rumors and Bow Wow will not be too happy about his news.
The "Mo Bounce" rapper was spotted riding shotgun with the Toronto singer on Tuesday night. Sources say the pair were spotted having dinner at Delilah's in Los Angeles. They both left together in PND car to an undisclosed location. Last weekend, Bow Wow got trolled on Twitter for thirsting over Iggy Azalea after she posted a video on the Gram showing off her banging body.
"Oh my gawd @IGGYAZALEA got me feeling some type a way. Yall know im nasty i swear for gawd i would," Bow Wow tweeted. She didn't respond to the rapper/actor, and it seems PartyNextDoor slide in her DM before he did. Iggy Azalea was engaged to NBA player Nick Young before their bitter split last year over some cheating scandal. She was then linked to French Montana, but was spotted kissing her producer LJay Currie just a few weeks after the French Montana rumors surfaced. The "Unforgettable" rapper famously threatened to shoot her on Twitter but turns out he was just joking.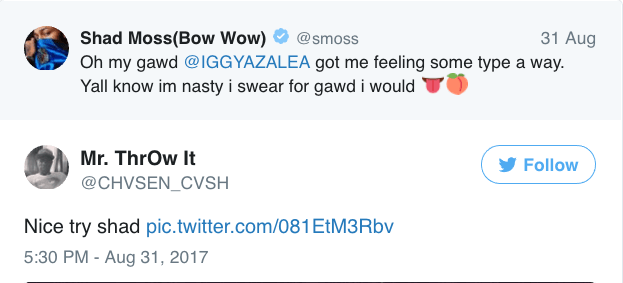 PartyNextDoor looked awfully uncomfortable in the photos that surfaced today of himself and Iggy in the passenger side as paparazzi swarmed his vehicle. Azalea has been working on a new album for the past several months, but there is no word on when that project will arrive. At the moment, the female rap scene is dominated by Cardi B and Nicki Minaj so now its a wait and see if the Australian blonde bombshell will start churning out some new music anytime soon.
Perhaps there is no dating and the two are merely working on new music together, but time will tell what's really going on between Drake's protege and the "Fancy" rapper. PartyNextDoor previously dated Kehlani and Kylie Jenner.