French Montana is threatening to shoot somebody after some photos surfaced online of his rumored girlfriend Iggy Azalea kissing on producer LJay Currie.
The New Classic rapper and the producer are vacationing in Cabo San Lucas in Mexico when paparazzi snapped the pics of them getting cozy and even locking lips. French Montana took to his Twitter account to leave a pretty straight forward message this morning. "Play with my emotions I'm shoot your punk asss lol," he tweeted.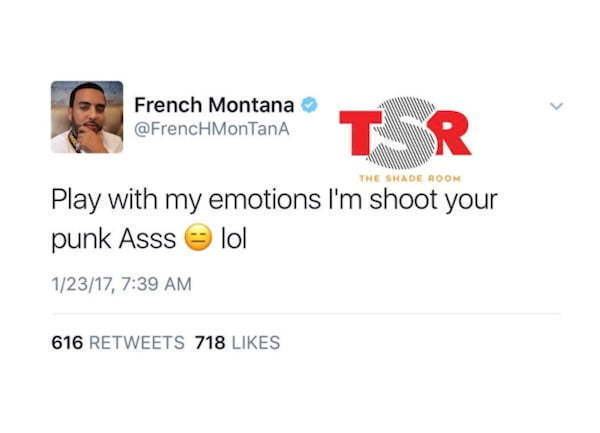 Iggy Azalea hooked up with French Montana last summer after her split with NBA player Nick Young. The Bad Boy rapper even drop some serious cash on some very expensive diamond rings for her. He bought her all of seven rings and even collaborated with her on her latest single "Sexy." Seems he might be feeling some type of way to find out via the internet that she has moved on. TMZ first posted the photos on Monday morning sending off a Twitter firestorm with some fans trolling Montana. Several pics shows them showing off a lot of PDA and other shows them frolicking in the water on a jet-ski.
Sources say the pair flew into Cabo on a private jet for a friend birthday and rented a yacht. "They have been all over each other with major PDA," US Weekly reported. "They rented a yacht and were making out on the deck."
The Australian blonde bombshell broke up with Young last year after she caught him cheating on her. He even knocked up his baby mama who was his ex-girlfriend at the time. The pair was also engaged and planning their wedding. Iggy Azalea blames her breakup with the Lakers star for the delay of her forthcoming album. "It's no secret, I kind of had my personal life fall apart," she said. "I needed a lot of time. I mean, you wake up one morning and your fiancé is having a baby with someone else, you're going to need some time, right?"