Chris Brown thinks that commenting on Rihanna's steamy Crop Over pic was just some innocent fun.
The internet has been making a big deal about Chris Brown's side eye emoji comment on a racy photo that his ex-girlfriend Rihanna posted on Instagram earlier this week. RiRi heats things up at the annual Crop Over carnival in her native Barbados on Monday. The photo that she posted has since gone viral, but folks are still talking about a comment Breezy left on the pic.
Sources close to the "Grass Ain't Greener" singer told Urban Islandz this weekend that Chris Brown wasn't surprised that his comment garnered so much attention, but it was all for fun. "He (Chris Brown) was just having fun, it's all just some innocent fun nothing more to it," sources told DHH. "He knew that it would make headlines because almost everything Chris Brown does the media talks about it, he is used to it. He knew some people would call him thirsty and stuff like that, but Rihanna knows that Chris is just a fun loving guy and like I say there is nothing more to it."
We asked our source if Chris Brown slides in her DM that day and he said, "no that didn't happen but if he did no one can blame him because have you soon how insane she looks, my god." Since Brown made the comment there has been a flurry of memes from fans who are expressing how they really feel about it including this one below where a fan said he needs to cease and desist from Rihanna's social media pages. Both Breezy and RiRi stopped following each other on social media following their bitter split in 2013, but earlier this year Chris Brown quietly started following Rihanna on Instagram. Just like this comment, that move on his part made headlines back then.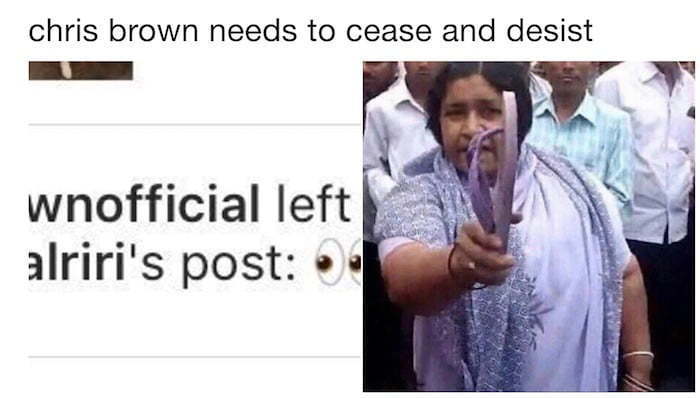 A paparazzo even got another of Brown's ex-girlfriends, Karrueche Tran, to weigh in on the comment situation. Karrueche basically echoed how most of us felt saying after seeing Rihanna's photos she would have done the same thing and hit on her.