Chris Brown started following Rihanna again on Instagram and everyone is in a panic thinking that they are dating.
Urban Islandz reached out to our sources inside the Bajan pop star's circle who confirmed with us that they are not dating, so everyone can just take a chill pill and just calm down. Breezy suddenly started following his ex-girlfriend over the weekend and their fans quickly took notice and grabbed a screenshot. Did his finger just slipped and hit the button? We doubt it because to follow someone you have to go to their profile and hit the follow button, or tapped it through IG's follow recommendations.
"Nope and I can say that firmly that they are not dating or banging or communicating," sources told us. "They have always had a cordial relationship so him following her shouldn't come as a surprise. But I can confirm that they are not even talking to each other right now."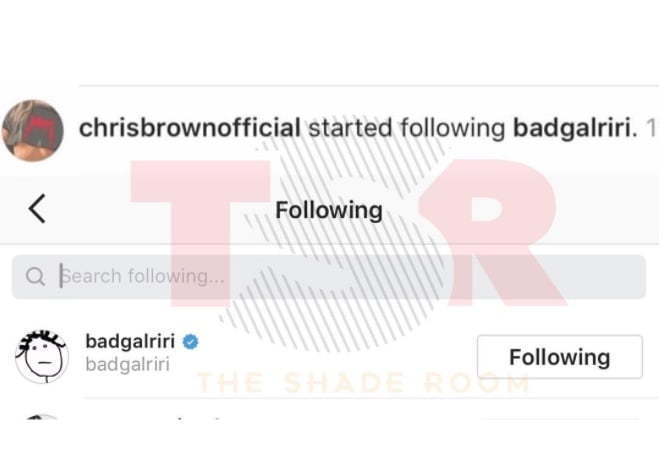 Some fans have been commenting on Instagram calling Chris Brown a stalker for just abruptly following Rihanna, especially with his current court case involving. Brown has been reportedly evading Karrueche Tran's restraining order for weeks now and the two will be coming face to face in court later this month. Sources told us that Rihanna and Brown have not spoken to each other for months.
Earlier this month, Breezy raised some eyebrows when he suddenly started following Rihanna's BFF Melissa Ford on Instagram. When his fans noticed and called him out about it and he responded in the comments sections saying that he and Ford have been friends for years. ""MELISSA IS AND ALWAYS WILL BE MY HOMIE, he wrote. "NO EXTRAS. Don't get too excited people. Not gonna happen."
Maybe Chris Brown is just being stalkerish or maybe he secretly rekindled his friendship with Rihanna and her best friend Melissa Ford.