Safaree Samuels isn't totally over his Nicki Minaj breakup and we hope his Twitter account wasn't hacked.
Safaree, who is a star on "Love & Hip Hop: Hollywood", took to his Twitter profile on Thursday afternoon to let his fans know that he wanted a baby with Nicki Minaj, or perhaps he still does and that was kind of his way of saying it. "I really want a kid.. Nicki you were suppose to have my child.. I can't believe this is life," he tweeted out.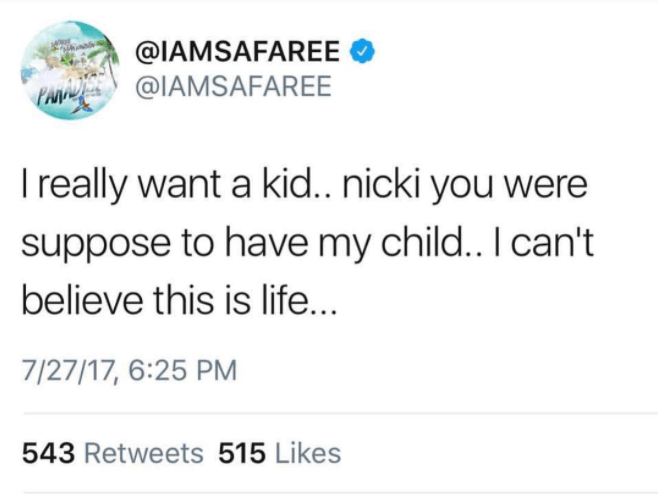 The reality TV star's comments on Twitter came just moments after Nicki Minaj announced that she is dropping a music video for "You Da Baddest" with Future at midnight. Perhaps Safaree say that Nicki was showing off her banging body in a revealing outfit in the music video and was having regrets. Safaree always maintained that Meek Mill had a lot to do with his and Nicki Minaj breakup. Just a few weeks ago Meek and his goons attacked him at the BET Awards in Los Angeles, but he ran and later posted a video saying that he was out numbered.
Seems Safaree and Meek Mill were in competition on who can knock up Nicki Minaj first and so far none of them did, so perhaps Nas can do the honors. Since his breakup with Nicki Minaj in 2014, Safaree Samuels has been crafting his solo rap career but so far he has yet to find that breakout hit song. The Young Money rapper is currently working on her new album, but so far no concrete detail is available like release date and title. Some sources are saying that it could arrive as early as this year. Since the start of the year she has been very active with a slew of collaborative singles and a few solo efforts.
#YouDaBaddest with @1future @ Midnight!!! ???? pic.twitter.com/51n3meImq7

— QUEEN (@NICKIMINAJ) July 27, 2017