Drake affiliate rapper 600Breezy gets sentenced to 10 years in prison for probation violation.
The rapper recently appeared on Drake's hugely successful More Life playlist which has the second biggest debut so far this year only behind Kendrick Lamar's DAMN. Back in 2012, 600Breezy was arrested and slapped with charges of possession of cocaine. He was placed on probation, but he violated the terms of his probation when he traveled without permission. Sounds like a classic case of probation violation, just ask other rappers like Meek Mill and Kodak Black.
On the day of his sentencing, 600Breezy posted a lengthy rant on his Facebook page about how long the drive was to Iowa. "This long as drive the Waterloo I'm about to walk in court on straight a**hole mode," he wrote. "Cause if I been violating for traveling…that mean I'm violating coming to court.. and the crazy part my supervising p.o in Chicago didn't violate me . Iowa did….. After 5 years now Iowa wanna all of a sudden step in." His mother also confirmed that he was given ten years. "Iowa just locked up Antonio Valentino King for 10 yrs. This is the worst birthday of my life," she wrote."
According to XXL, Drake is lending a helping hand in trying to get 600Breezy released. "I won't let him sit," the 6 God said. "We will do everything we can." An affiliate of 600Breezy also revealed that the rapper might not have to serve the full 10 years and could be released in as little as a year.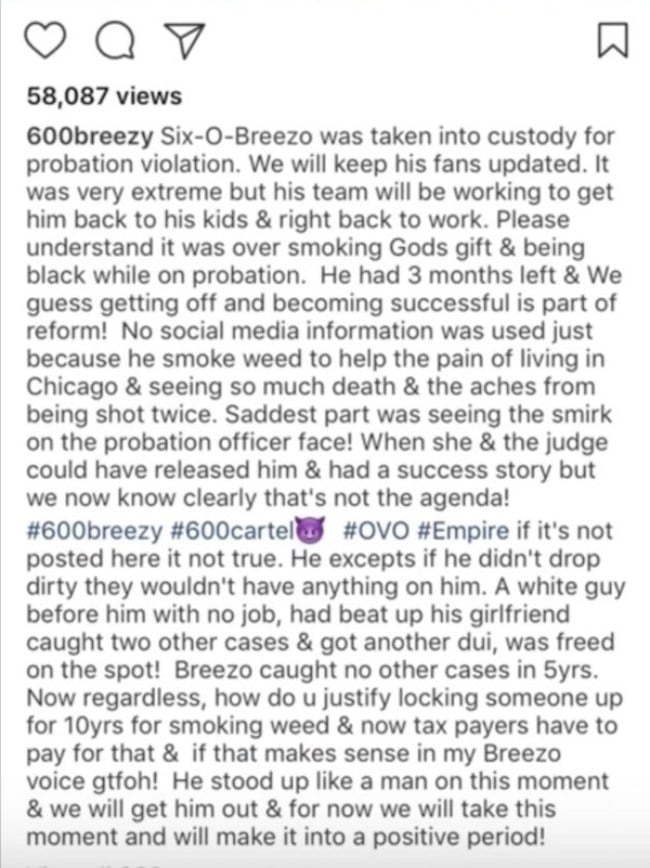 Kodak Black walked out of jail yesterday after serving 30 days for probation violation, he was originally sentenced to a year behind bars but was given a second chance to prove himself by enrolling in a life skills program in jail. He did that and is now a free man.