K. Michelle fired off a series of tweets over the weekend dissing Nicki Minaj and Meek Mill, but instead of supporting her, the folks on Twitter are roasting her.
Seems the R&B songstress had a lot to get off her chest regarding Nicki Minaj and Meek Mill who both dated for about two years before their relationship came crashing down in December. She specifically spoke about getting a called one night that she was taken off Meek's single "Buy A Heart" and she later learned that she was replaced by none other than Nicki Minaj. She also revealed that the single was originally given to her for her album. Michelle also added that Nicki blocked her on social media because the Young Money rapper thought that she was dating Meek Mill, a claim she said is not true.
"I felt kinda destroyed," she tweeted. "This is a woman I publicly praised. I was so happy 4her. I was like why is this woman trying to block me over penis." K. Michelle then called Nicki Minaj and Meek Mill relationship demise "karma." "God did more than handle this situation," she wrote on Twitter. "I've just sat back and healed up. Watched karma. I'm not perfect but I'm not evil and insecure."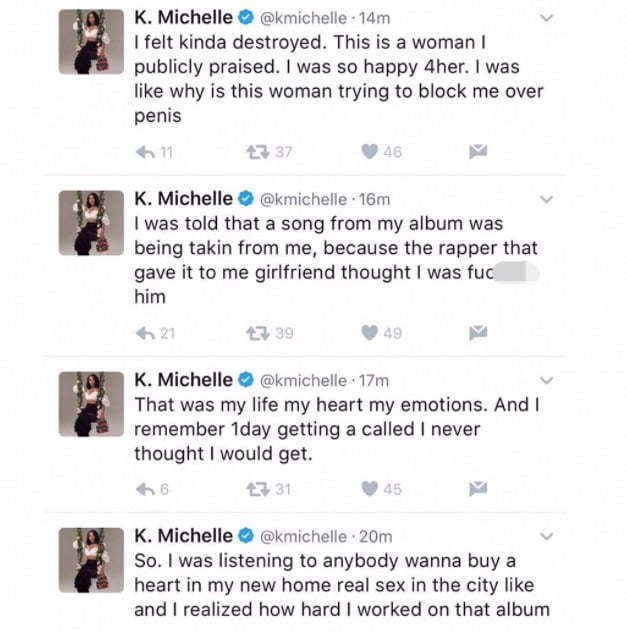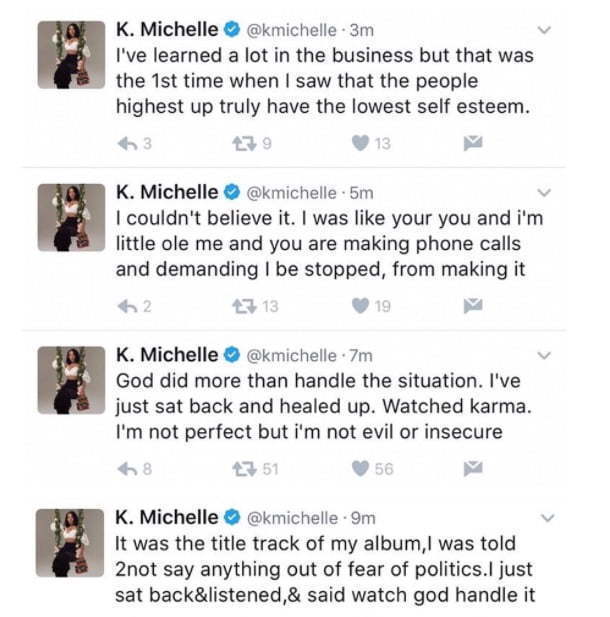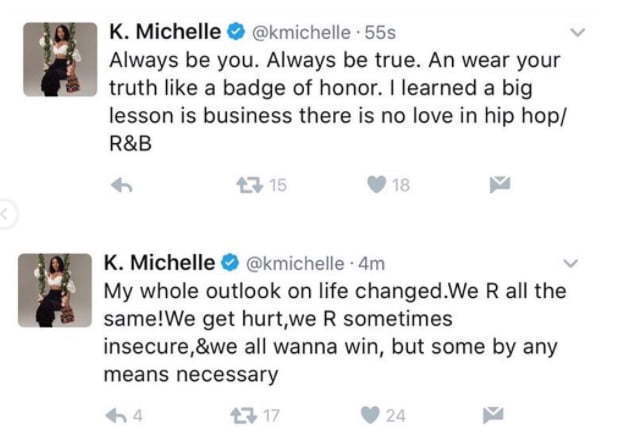 The folks on Twitter immediately started roasting her and some of her own fans are saying that those who are doing the trolling are Nicki Minaj barbz.
https://twitter.com/saintlagerfeld/status/871251697875726336
https://twitter.com/saintlagerfeld/status/871269176542973952
https://twitter.com/sirSLAYSalot/status/871272728862441472
Did K Michelle insinuate that Nicki consciously leaving Meek & moving on now being w/ Nas is karma? ISSA UPGRADE https://t.co/C1mQt5wV0O

— BILLS AHMED (@BillsAhmed) June 4, 2017
K Michelle trying to get publicity & buzz off of Nicki right before her single drop. Girl you ain't slick ? pic.twitter.com/VNer054t5I

— Drip 2 Soft? (@aricloudx) June 4, 2017
https://twitter.com/Flopaconda_/status/871262198349180929
K Michelle was SUPER thirsty to post herself wearin Meek's chain on IG knowin he wanted Nicki since 09 ? THIRSTY to introduce SB on LHH ?

— Oh, bitch nah! (@HoneyGuwop) June 4, 2017