French Montana is getting trolled on Twitter for his vicious clap back against a fan who insulted him.
Celebrities have to deal with trolls on social media on a daily basis and every now and then someone caught a message of a celeb clapping back at a fan who they thinks cross the line. Turns out one of French Montana's fans learned the hard way on Wednesday when she tweeted "The fact that French Montana thinks anyone cares about him."
The Bad Boy rapper responded to the female fan saying "U musty crusty dusty rusty a*s h*e With them nappy a*s poetic justice braids take your c*m drinking D**k banging a*s somewhere n be humble." Clearly that response did not sit well with other fans on Twitter and they went in even revoking his black card and banning him from saying the N word.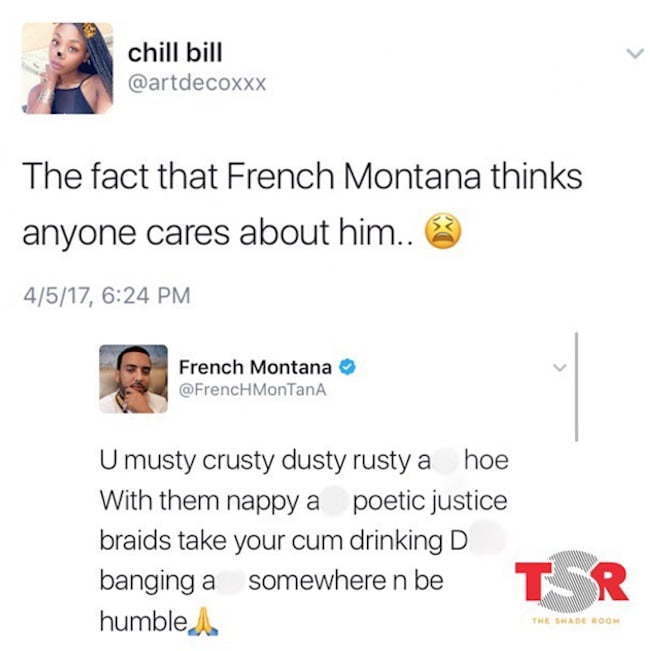 Some fans thinks that French Montana has a right to defend himself from internet trolls, while others thinks that his response take things a bit too far. French Montana responded to some of the folks that are trolling him on Twitter. "If your hair nappy its nappy that sh*t don't have nothing to do with your race," he said. "My son is black, and I was born in africa I lived there for 13 years I ain't no punching bag, and I don't discriminate !don't come for me." The rapper said that people are getting mad at him for simply defending himself. "How people get mad at u for draging somebody that tried to drag u," he wrote. Check out some of the comments on Twitter below and leave your feedback in the comments section. Do you think French Montana handle the situation like he should?
How people get mad at u for draging somebody that tried to drag u ?

— French Montana (@FrencHMonTanA) April 6, 2017
My son is black, and I was born in africa I lived there for 13 years
I ain't no punching bag, and I don't discriminate !don't come for me ? https://t.co/qnnfcCRhCQ

— French Montana (@FrencHMonTanA) April 6, 2017
https://twitter.com/MiguelChines/status/849917684687007746
Lol social media is going to ruin French Montana after that tweet. *GoesBackToWork*

— Wardah Sempa ??? (@wardahsempa) April 6, 2017
The idea that French Montana can't be anti-black because he's Moroccan is so absurd & reveals how little ppl know about African history

— Third Force (@NalediMashishi) April 6, 2017
Black Moroccans to French montana pic.twitter.com/qy0LOdB8iO

— will byers is moroccan (@THECASSCAIIN) April 6, 2017
https://twitter.com/AfreakingNegro/status/849921627899015168
Lol the world is mad at French Montana for clapping back at someone who he felt disrespected him.

— goldmouf. (@__wag_) April 6, 2017
Is the issue "nappy headed" or the "N" word? Either way it's hypocritical to go after French Montana when we use these terms ourselves.

— MrsBundrige (@bigsisternes) April 6, 2017