Popcaan and one of Alkaline fans get into a heated feud on Instagram over the recent Jahmiel and Vershon beef.
Both Popcaan and Alkaline were caught in the crossfire between the two dancehall stars, but the Unruly Boss made public which side he is on in a comment on Instagram this week that earned him a response from an Alkaline fan page. "@versimusicja @vershonmusic Tell them don't size up," Popcaan wrote.
The Vendetta fan handle @Manhimselff_Quotes responded with a clever comment writing, "Behave yuh self microwave cauz yuh couldn't even fight yuh own war." That comment seems to infuriate Poppy who then responded saying "Pu**y go s*ck yo mada you and yo ba**yman fren and yes pu**y a sameway me skull hot like microwave."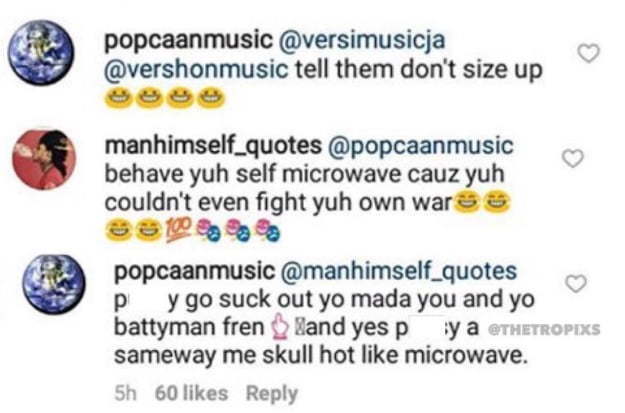 Alkaline and Popcaan had one of this biggest beefs in dancehall since the start of the year and things have been brewing between them since last year. The Vendetta head dropped two gritty diss tracks while Popcaan released one song "Stray Dog" and then went radio silent.