PARTYNEXTDOOR says that he is a huge fan of Nicki Minaj but he didn't backdrop on those allegations that he ghostwrite her new single "Regret In Your Tears."
The OVO singer came under fire from Nicki Minaj fans over the weekend for agreeing with some other folks who were saying that he was the ghostwriter of the breakup song which tackles her recent split with Meek Mill. PARTYNEXTDOOR tweeted his admiration for the Young Money rapper before deleting the tweet.
"I'm a fan of Nicki Minaj," PARTY tweeted. "We have a song together, I hope she's as cool as I've always imagined." This tweet came just moments after Nicki went HAM on him for liking some tweets that insinuated that he wrote the song. "Party Next Door had NOTHING to do w/ #RegretInYourTears – ni**a aint never heard that song a day in his life ?. Bless y'all heart," she wrote.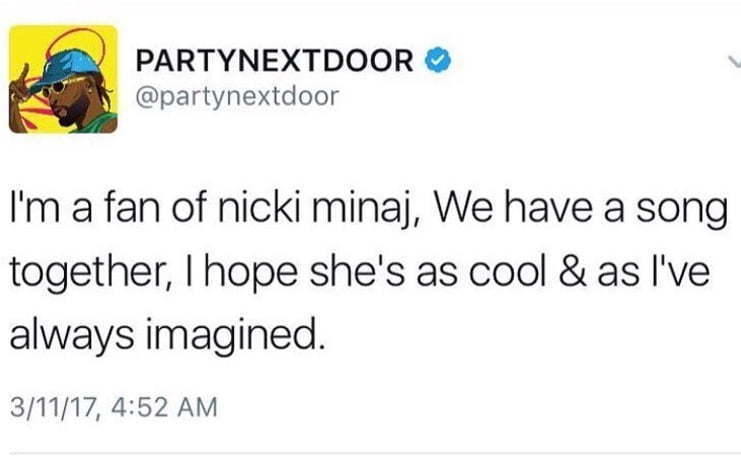 That tweet from PND didn't help to dismiss the rumors that he ghostwrite the song, but expressing his admiration for the Trinidadian rap superstar may have reduce some of the heat he has been getting from some of her fans. "Regret In Your Tears" peaked in the top ten on the iTunes chart over the weekend in all major music market worldwide.
Nicki Minaj and Brittany Hazzard are listed in the writers credits on the song on Apple Music. But the Young Money femcee spent a great part of the weekend defending herself from widespread allegations that she used a ghostwriter on the song which happens to be PARTYNEXTDOOR. It's certainly a sad day in hip hop when a woman has to defend herself from false accusations that she never write her own hit song. Drake and PARTY have been rumored to be having some tensions inside OVO, so maybe this will only serve to exacerbate that if its true.
Nicki Minaj responds to PARTYNEXTDOOR ghostwriter claims on #regretinyourtears pic.twitter.com/BQ9JvqV659

— Urban Islandz (@urbanislandz) March 12, 2017