Nicki Minaj and Remy Ma beef is in full swing although the Young Money rapper has been silent since that "ShETHER" diss track.
Aside from the millions of hip hop fans weighing in on social media, rappers have also been adding their voices to the feud with some taking sides. The diss track "ShETHER" has dominated hip hop headlines this week and most fans are calling for a swift response from Nicki Minaj but so far radio silence from her camp.
Among the list of rappers voicing their opinions on the beef includes her two exes Meek Mill and Safaree Samuels. This week other rappers have weighed in including The Game, Lil Kim, Da Brat, The LOX, Fat Joe, Boosie Badazz and more. Trey Songz and Ebro were forced to clear up rumors that they had previous sexual relations with Nicki Minaj.
These are the reactions from the hip hop community.
Meek Mill: Meek Mill posted a photo of himself and his friend Rugs with the caption "Meek don't say sh*t." The image shows Rugs and Meek in a conversation after Remy Ma track "ShETHER" started gaining traction.
Safaree Samuels: Paparazzi caught up with Nicki Minaj ex-boyfriend of 12 years Safaree this week and he pretty much told them that he don't think she can recover from a diss track like that. "It's probably the most disrespectful record I've ever heard in my life," he said. "That sh*t is very out of pocket. Cause it's like what can you even say … What can you even say to Remy? It's really not much." (Story on Urban Islandz.com)
The Game: The Documentary rapper mostly took issue with Meek Mill's handling of the situation and we all know that there are a lot of accusations on the track about Meek telling Remy Ma that Nicki Minaj a*s drop and that she withhold sex from him for three months. "This the type of hoe sh*t I hate," Game quips. "This lil b*tch @meekmill aka Meesha salty cause his woman left em. Instead of being a REAL NIGGA & leaving the situation with ya head up standing tall, you in ya feelings so you get her house robbed & do f**k ni**a sh*t fronting for the followers she gave you… liking pictures & leaving comments on posts that disrespect the woman who gave you life, actually loved yo dusty as, bought you sh*t you couldn't ever afford on yo own & even stood by your side when Drizzy bodied you. Instead of leaving yo bum a*s like she should've, she held yo skinny rat face havin a*s down !!! Now she gone & all you can do is try & sh*t on her every chance you get over social media ?? Straight pu**y sh*t… you know how many REAL NI**AS would love the chance to wife up a Nicki Minaj, Rihanna or a Beyonce." (Story on Urban Islandz.com).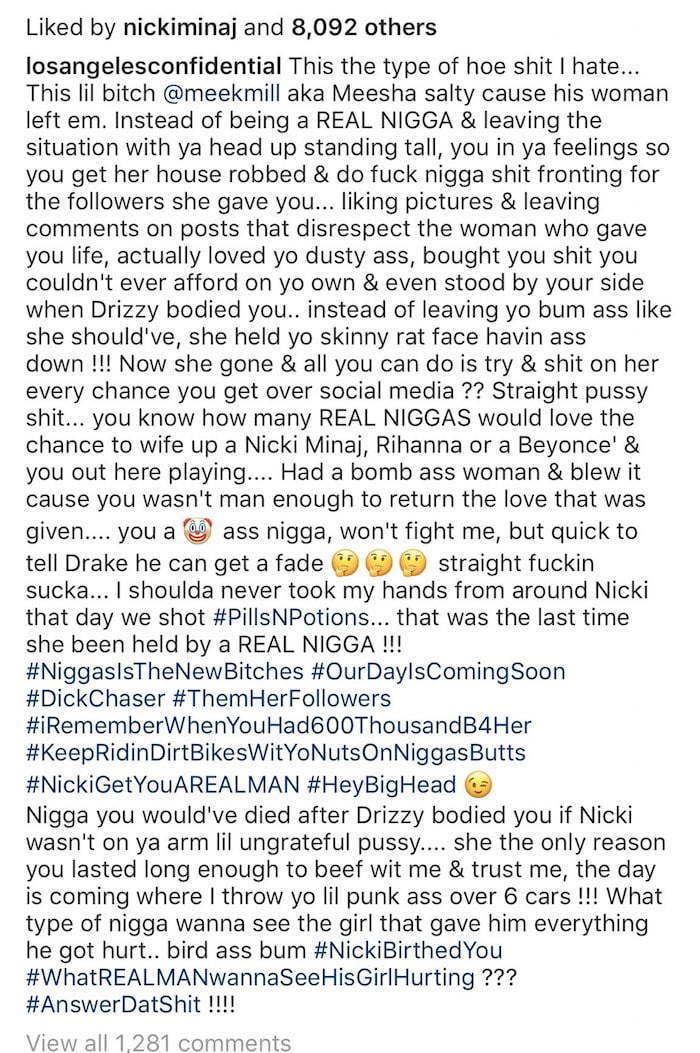 Lil Kim: Lil Kim and Nicki Minaj have beef long before Remy Ma was released from prison, so it's no surprise that she is siding with Remy Ma. "Ol' girl has never been on my mind for a long a*s time at all. So I hate the fact of that being in the equation," Kimmy Blanco told Billboard. "But the situation with Remy, for them to say that we were coming together to do a diss track? First of all, after hearing "ShETHER," that sh*t is so hard, Remy don't need no damn help! Why would I need to come together for that? I mean, I'm into the music and I'm speaking musically wise — the song is just hard, period. Just like [Drake's] "Back To Back" was hard — just good hip-hop music. But I got nothing to do with that. When I had my situation and my situation came up, I handled my business." (Story on Urban Islandz.com)
Da Brat: Rapper Da Brat came up in the Remy Ma era and she gave her very honest feelings on the beef and the diss track "ShETHER." This is what she said on her show Dish Nation. "Personally I don't know Nicki. Everything she's done is cool. Proud of her for representing the female emcee. I gotta go with Remy. I got history with Remy. She's part of my era. I respect Remy. We friends…..As far as the bars, Remy's bars has eaten the sh-t out of anything Nicki has ever said unfortunately; I'm sorry. Everybody now is just waiting. This is Hip Hop; this is real Hip Hop. Now we waiting on what Nicki is gonna say….. How can you be quiet because Rem took it all the way below the belt and went real deep." (Via Allhiphop.com).
The LOX: Jadakiss and Styles P both weighs in and they both agrees that Nicki Minaj should just take this L and fall back. "Gloves is off. Nothing she can't..if you heard "ShETHER" Remy went no prisoners. That's what it is in a battle and war…Say whatever you thinks gonna hurt her feelings….. She got too much stuff to lose," said Jadakiss. Styles P added "I don't think Nicki can win this. I think it would be smarter to fall back. She's gonna lose money."
Fat Joe: The Terror Squad leader didn't want to say too much about the beef but he coulnd't help himself. "I woke up like you to a phone ringing 1,000 times. The phone was ringing so much I couldn't even listen to the song for like two hours. It's two females going at it." Fat Joe thinks that the clock is ticking for Nicki Minaj. (Via XXLmag.com)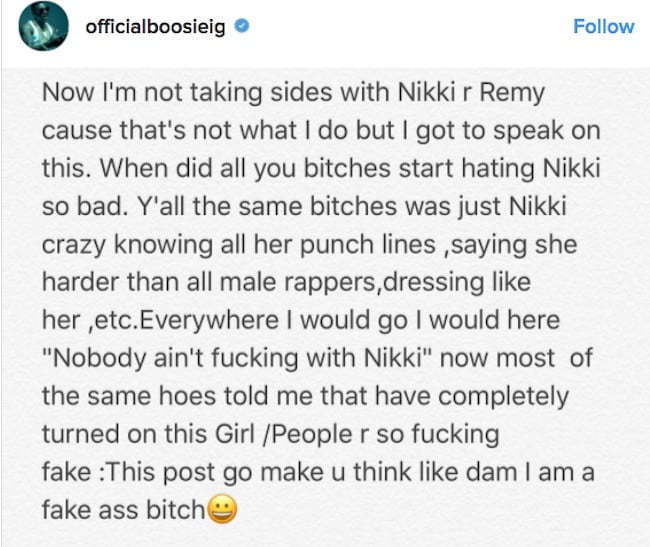 Boosie Badazz: The Baton Rouge rapper went on a rant on Instagram calling out what he calls some fake industry females. "When did ya'll b***hes start hating Nicki so bad? Ya'll the same b*tches who was just Nicki crazy knowing all her punch lines, saying she harder than all male rappers, dressing like her, etc. Everywhere I would go, I would hear nobody ain't f*cking with Nicki, now most the same h**s told me they have completely turned on the girl."