Remy Ma is under fire from Nicki Minaj legion of fans after she posted an explicit photo of the PinkPrint rapper on Instagram.
The photo at the heart of the contention can be seen below. Remy Ma made the post then quickly deleted it after getting some harsh criticisms not only from Nicki's fans but also some of her own. "You lame for doing this Remy," one fan wrote in the comments. "Stick to rapping but leaking photos is lame lost respect for you mama."
Another fan jokingly wrote "Leak the video she sort coke lol just playing stop let people get the best of you focus you prove your haters wrong by your success." If you check Remy Ma comment timeline right now it would look something like this.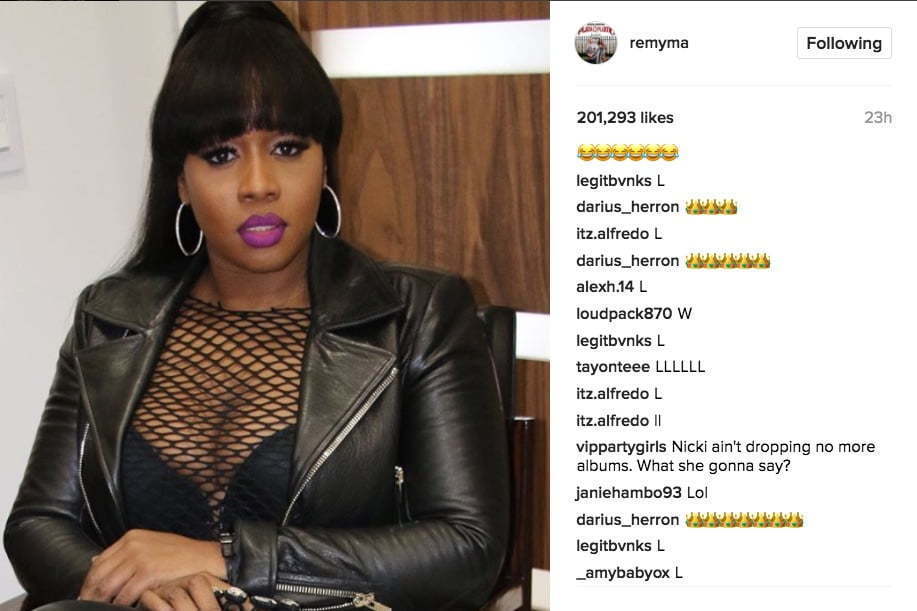 "Still "unbothered" Spongebob? @nickiminaj #B4TheButtJob #shETHER #Another1," she wrote while threatening to release more stuffs on Nicki Minaj.
Several other fans are currently trolling her comments with Ls while some are saying that she shouldn't released her second diss track because its nowhere close to the first one. Are Nicki Minaj fans just salty or did Remy Ma made a low blow when she leaked that photo?
Listen Remy Ma new Nicki Minaj diss track "Another One" here.