Offset and Cardi B drop their new collaboration "Lick" while confirming their relationship.
Migos rapper Offset and realty star/rapper Cardi B have been rumored to be dating for a few weeks now but this is the first time either of the two are confirming a relationship. The song "Lick" is featured on her new Gangsta B*tch Music, Vol. 2 which was released last month. The original version of the single only featured Cardi B, but Offset drop two verses on the trap flavored track on this new version.
"They know they can't stop a G / B**ch, do not talk to me / Diamonds start hitting, she swallow me," Offset raps. The Love and Hip Hop star gave her boo some major shine on Valentine's Day when she posted this video of them at the Super Bowl. She also responded to a fan on Twitter who wrote "I know offset love How nasty and hood cardi B is." She responded saying "He does girl."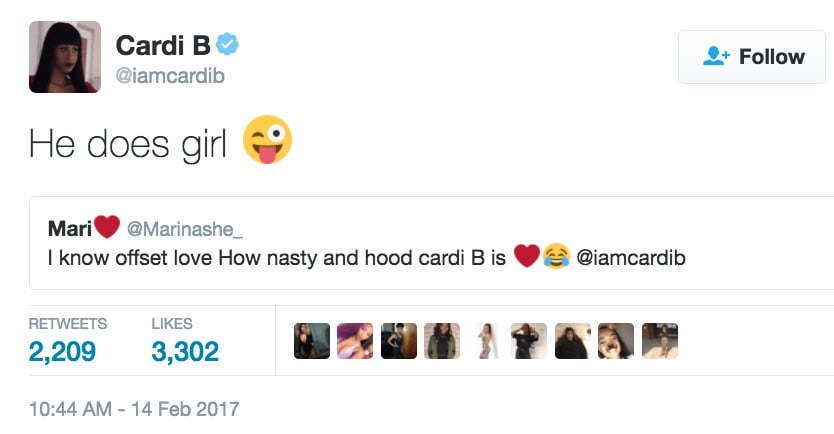 Perhaps we will get more new music from Cardi and Offset or even a Migos collaboration would help push her career.
Cari B's new mixtape Gangsta B*tch Music, Vol. 2 was released in January and earned her some great feedback from hip hop fans. Offset has been having the time of his life with his group Migos scoring their first Billboard No. 1 single "Bad and Boujee" and first No. 1 album CULTURE.
He does girl ? https://t.co/VrhM3UvSfW

— iamcardib (@iamcardib) February 14, 2017
https://www.instagram.com/p/BQfypPthHLd/