Lil Wayne and Birdman are not quite back to their old relationship but at least they are back on speaking terms.
The two ring in the New Year together at Drake's party in Miami but sources say they have been talking to each other for a couple weeks now.
Lil Wayne Sued By His Own Lawyer For $375,000
"They have been back on speaking terms for a few weeks now but a lot of work still need to be done for their relationship to get back to the old days," sources close to Young Money said.
Sources says that Drake and Mack Maine were instrumental in getting the two rap titans to talk to each other.
"Drizzy and Mack Maine advocate for both of them to have a sit down and hash things out for the greater good of the label," sources added. "They are both eager to work things out outside of the court and things look like it will move along amicable."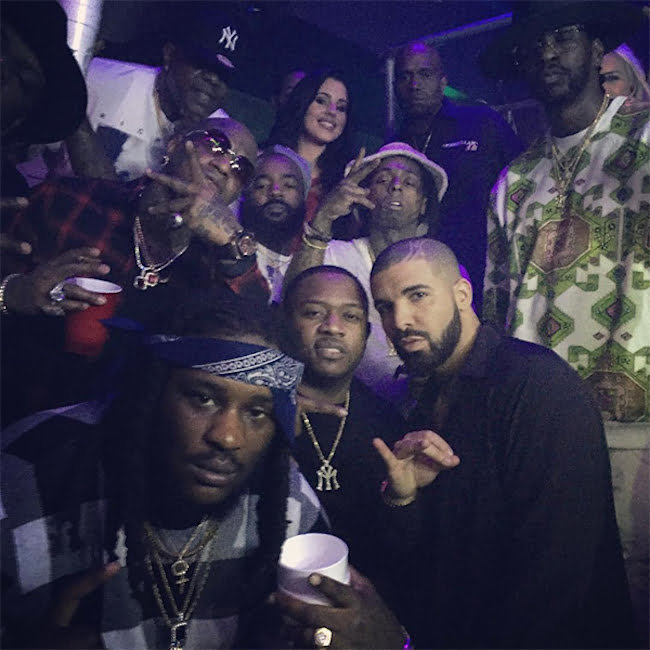 Sources also say that Lil Wayne will not be dismissing the $51 million lawsuit until a formal agreement is reached.
Wayne and Birdman, real name Brian Williams, have been at war since December of 2014 when he went on Twitter to blast Cash Money and his former mentor/friends.
The New Orleans rapper says that he wants out of the label and blame Birdman for the delay of his yet to be released album Tha Carter V.
A month later he filed a lawsuit for $51 million claiming that the label owes him $10 million for Tha Carter V. $8 million of which was supposed to be an advance. In his legal docs, Weezy also want a judge to release him from his contract with Cash Money claiming that the label is in breach of the terms of their deal.
Lil Wayne has released two mixtapes last year, perhaps a settlement will see fans getting their hands on Tha Carter V in 2016.