Chris Brown has two monarchs in his life, his album and daughter of the same name Royalty.
The "Fine By Me" singer released some adorable photos of his daughter on IG over the Thanksgiving holiday weekend. "Care Bear! THX," he captioned one photo of the adorable 18-month-old toddler wearing a fur coat. PETA will not be too pleased with Breezy.
Related: Chris Brown Responds To Karrueche & Rihanna "I Wish Them The Best"
Brown also posted another photo of himself cuddling Royalty while she sleeps in his arms similar to his album cover.
During an interview last week Chris Brown says that Royalty is a major part of his life and she helped shape him into the man that he is today.
His people are saying that fatherhood is the best thing that has ever happened to Brown.
"It's been a while we've seen him (Chris Brown) this happy," sources said. "Whenever she is around he is just always happy and consumed by her. But then he would get sad whenever she is not with him. He will miss her every moment that they are not together."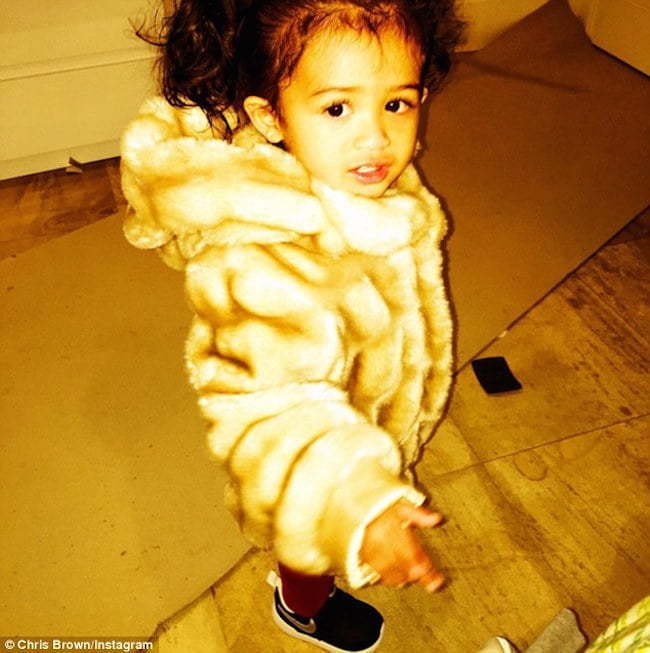 Breezy people also says that he doesn't want her to grow up.
"He is afraid of her growing up too fast but every father who has a daughter can related to that," sources told us.
The "Liquor" singer won joint custody of his daughter this summer which means that he will have her for 12 days out of every month. He has also agreed to co-parent the toddler with his baby mama Nia Guzman.
Chris Brown is gearing up to drop his new album ROYALTY on December 18. Last week he announced that there are some delays and to make things up with his fans he released a mixtape "Before The Party" with 34 new singles including a track with Rihanna, Wiz Khalifa and Kelly Rowland title "Counterfeit."
Brown's daughter was the inspiration behind the album. But some of his fans took issue with that given some of the raunchy singles on the project like "Back To Sleep."
Look out for Chris Brown new album ROYALTY on December 18, 2015.