A Nicki Minaj and Lil Kim collaboration will never happen at least that is what the Young Money rapper is saying.
Reports surfaced this week claiming that Meek Mill wants his girlfriend Nicki Minaj to do a collaboration with her longtime nemesis Lil Kim. Hollywoodlife reported that Meek thinks that the two would own rap if they do a duet.
Beyonce Calls Nicki Minaj The Undisputed 'Rap Queen'
Sources are telling us that those reports are false and that Nicki is not open to record with Kimmy Blanco.
"Nicki has put that chapter behind her and doing a duet with someone with Lil Kim will do nothing for her career right now," sources close to the Trinidadian rapper told Urban Islandz. "Your talking about working with someone who has bashed you for years all because of jealousy. So the likelihood of a Nicki Minaj and Lil Kim collaboration is next to impossible, it will never happen."
Nicki Minaj and Lil Kim have been beefing for years with the Brooklyn rapper accusing the YMCMB femcee of copying her image without giving her respect.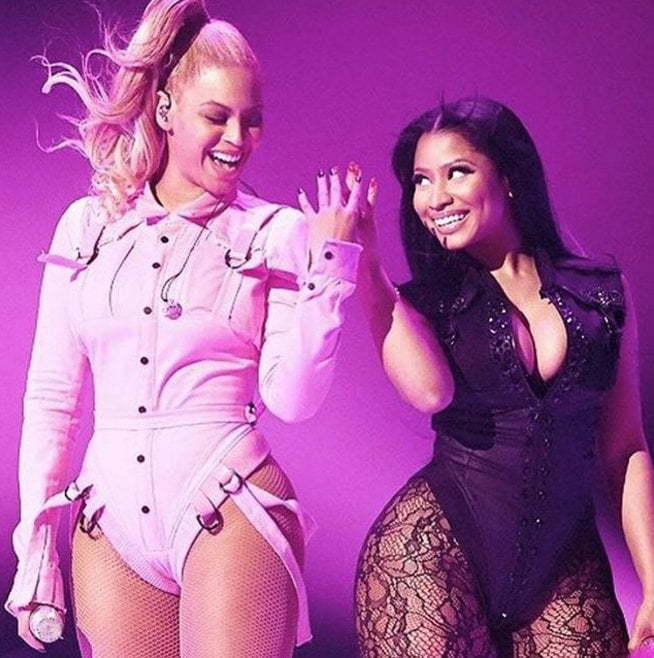 Their beef seems mostly surrounding who is the queen of rap. Just last week Beyonce serenade her new BFF Nicki Minaj calling her the rap queen. But hip hop fans are divided on this one with some siding with Nicki and some die hard Lil Kim fans remained in her quarters.
Minaj is currently enjoying some downtime following a hugely successful tour with Meek Mill over the summer. She also saw huge success from her last album The PinkPrint.
The "Only" rapper is currently holding casting for her upcoming comedy series on ABC Family. She is also the executive producer of the show which will chronicle her life from growing up in Queens to becoming a global superstar.