Chris Brown is trying to turn a new page in his life and that involves stop doing drugs.
The ROYALTY singer is shooting down claims that he is addicted to sizzurp, a drug made from codeine made popular from the likes of Lil Wayne and Justin Bieber.
Chris Brown Avoiding Karrueche At All Cost, Ask Fans To Stop Trolling Her
TMZ reported earlier this week the Brown friends and family are worried that he is slipping back into doing hard drugs and are worried that he could loose custody of his daughter because of it.
But his people are saying that the reports are not true and Breezy is not hooked on sizzurp.
"Chris has been drug free for a while now since leaving rehab and the only he does is smoke an occasional cigarette," sources said. "People are talking about codeine in his cup when they have no idea what is inside his cup. It can be simply water or some soda how the heck do you know whats inside the cup."
"Even if Breezy was drinking sizzurp its not illegal and he is a grown a** man who can make his own decision about what he want to put in his own body," sources close to the singer are saying.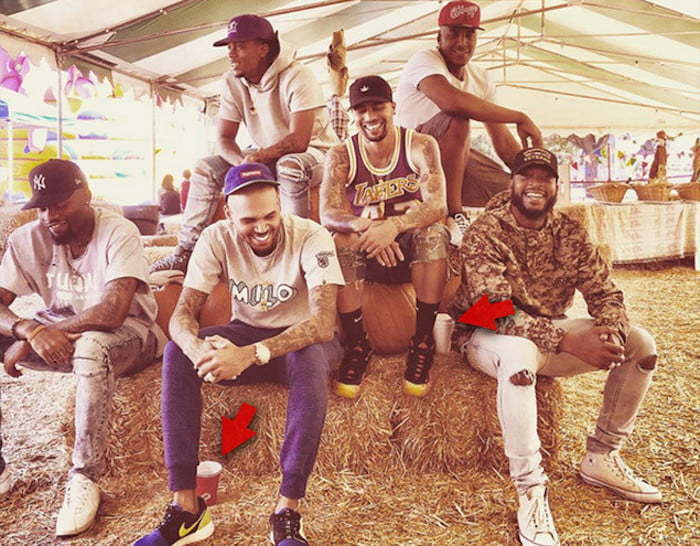 On Monday night Chris Brown went on a Twitter rant ousting TMZ before the site even published the story.
"I got a great album coming, having a great time being a father, and also staying out the way! Ima grown man and I live my life on my terms," Breezy said on Twitter. "Media is so predictable now.. Lol. I'll be sure to send you your personal copy of my album."
On the plus side, Chris Brown is using all the attention to promote his new album ROYALTY, due on November 27.
So far the R&B singer has release two singles off the album, "Zero" and "Liquor."