Drake has not accepted Meek Mill's apology after his infamous Twitter rant on Tuesday night.
Last night the Philly rapper went on stage with his girlfriend Nicki Minaj and publicly apologize to Drizzy, who is also Nicki's labelmate.
SEE ALSO: Meek Mill Dissing Nicki Minaj, Drake And Safaree On Twitter
"I want to give a special apology shoutout to Nicki Minaj for my crazy ass getting all crazy on Twitter," Meek said on stage with Nicki Minaj by his side on their PinkPrint tour stop. "I was just upset as fan. Shoutout to Drake… let him be great in all the mother**** lanes that he is great in."
Sources close to the Trinidadian rapper told Urban Islandz that she is the one who ask Meek Mill to apologize and that Drake fully rejected it.
"Nicki did felt some type of way because she and Drake are pretty close even though they had a rough patch in their relationship," sources told us. "Drizzy definitely did not accept that apology and neither does he want one. At least that is what Drizzy people are telling Nicki Minaj. He thinks that Meek is just another hater who is jealous of his success."
Our well connected source told us that Nicki attempted to contact Drake but he told her to kick rocks.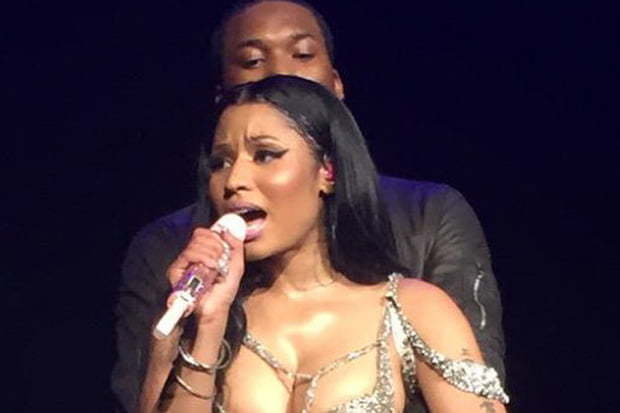 "There are some falling out because Drizzy is not even taking Nicki calls or answering his texts. Even Meek tried to reach out after that rant on Twitter but Drizzy told both of them to kick rocks," our source said.
Drake has still not publicly address Meek Mill's allegations that he uses a ghost writer for his songs. But his alleged secret writer, Quentin Miller, has addressed the situation saying that he did not write the Toronto rapper's song "10 Bands."
Miller told TMZ that he was just an average baker with a love for music and Drake saw it in him and took him under his wings. He said that most Drake's "If You're Reading This It's Too Late" album was already done when Drake brought him into the picture to collaborate on a few songs.
Drake longtime producer Noah "40" Shebib also came to his defense on Twitter saying that he wrote all his music.
I can't count the hours that myself and drake have spent writing producing and recording music. Let's just say… 5000 hours…

— Noah Shebib (@OVO40) July 23, 2015
I've spent maybe 30 min in a studio with Q. Nice enough guy, very talented…

— Noah Shebib (@OVO40) July 23, 2015
No one is as talented as drake. It's not worth my time. I need someone who understands song writing on a higher level…

— Noah Shebib (@OVO40) July 23, 2015