Blac Chyna is under fire today from fans of both sides of the Drake and Tyga beef.
Tyga's baby mother posted a photo last night on Instagram and tagged Drake in with a very suggestive caption.
"Miss Me #neverforget," she wrote on the photo.
hardly hardly hardly forget anything.

— Drizzy (@Drake) October 29, 2014
Chyna also posted another pic and captioned it, "Let a real ni–a make it right …. I deserve that much ….. Put something in my life."
Tyga took offense and lash out on Twitter saying "That ain't my hoe."

Tyga has since deleted that tweet.
What is going on with this take shots then delete game? Maybe these folks should go on Love and Hip Hop Young Money.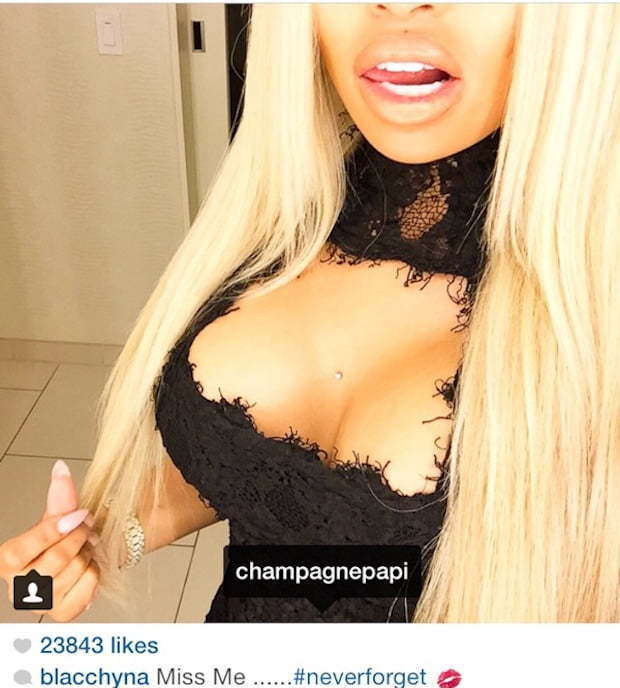 This morning Blac Chyna removed the photos and posted on Instagram that Tyga hacked her account and did the damage.
How would Tyga get a hold of those new photos of her though?
Blac Chyna and Tyga feuding on Twitter.
Tyga has not responded to the accusations.
Blac Chyna also posted a series of tweets taking shots at Tyga saying that she never loved him she was just out to get his money.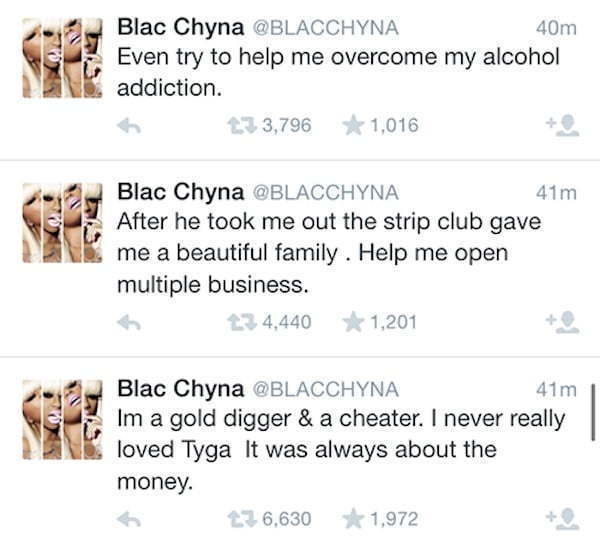 She has since deleted those tweets and says her Twitter account was hacked.
Got my twitter back ?? Yes I had a petty moment last night.. I'm human and I been ignoring the elephant in the room for months.

— Blac Chyna (@BLACCHYNA) November 2, 2014
I would never post things like that. I'm raising a son and King was created out of love.

— Blac Chyna (@BLACCHYNA) November 2, 2014
As of now I just want to co-parent, and focus on King, Lashed and bettering myself as a person.

— Blac Chyna (@BLACCHYNA) November 2, 2014