Nicki Minaj has a fantasy and it involves marrying her labelmate Drake and become hip-hop's next power couple.
Yesterday Nicki, Drizzy, and Weezy put on a show on Hot 97 Summer Jam and you could see the chemistry between the Trinidadian rapper and the Toronto emcee.
SEE ALSO: Nicki Minaj, Lil Wayne, Drake Performing Summer Jam [Full Video]
In a recent interview, Nicki Minaj was very candid about her love life. Although she might come off in a jokingly way, some fans felt Nicki and Drake could be secretly dating.
"One day I will run away with Drake and get married, but right now it's just a fantasy," Nicki Minaj told i-D.
Nicki Minaj recently posted a cryptic message on Instagram saying that she is single and ready to mingle, prompting tabloids to speculate whether or not she and her longtime boyfriend Safaree Samuels are having problems again.
Additionally, it's been a good minute we have seen Nicki Minaj and Safaree together.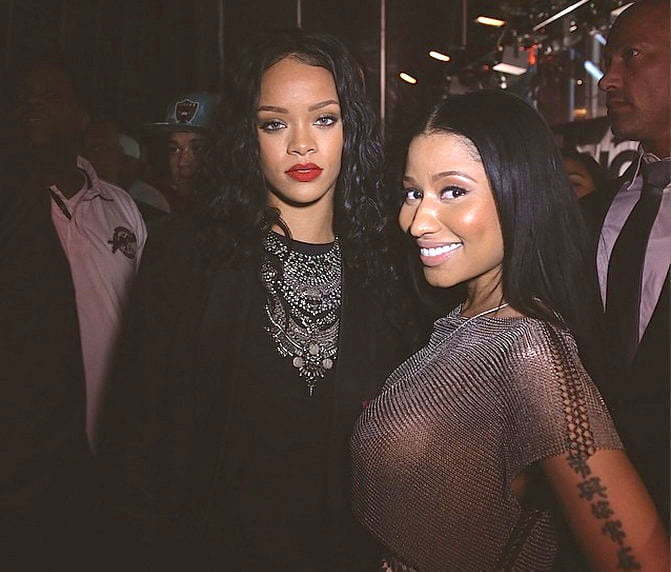 On the other side of the isle Drake has been in an on-again-off-again relationship with Rihanna. The two have been spotted all over the world in recent months having PDA moments. But speculations are that they have broken up.
Nicki Minaj also caught up with her fellow Caribbean superstar and Drake on-again-off-again boo Rihanna at Summer Jam last night.
Nicki posted a photo of herself and RiRi on Instagram captioning it, "The BADDEST."