Rihanna is calling a popular British journalist "a sad sloppy menopausal mess" and she also had a few Bob Marley lyrics for her.
Earlier this week, writer Liz Jones of the Daily Mail penned a stinging piece on Rihanna calling her "poisonous" pop princess.
Here is some excerpt from Liz Jones article:
"Of course, these little girls don't [realize] there is anything wrong with what they are doing — they just want to copy the chart-topping star… But if only she could be a better role model for young women," Jones writes. "I don't care if she has the voice of an angel and is self-made, feisty and confident."

"Is it fair that we berate female stars for being bad, when we don't admonish men in the same way? Yes, it is fair. Because young women are far more impressionable than young men. They want to be Rihanna, have her lifestyle, her clothes, her men, her habits… This poisonous pop princess should come with a government health warning."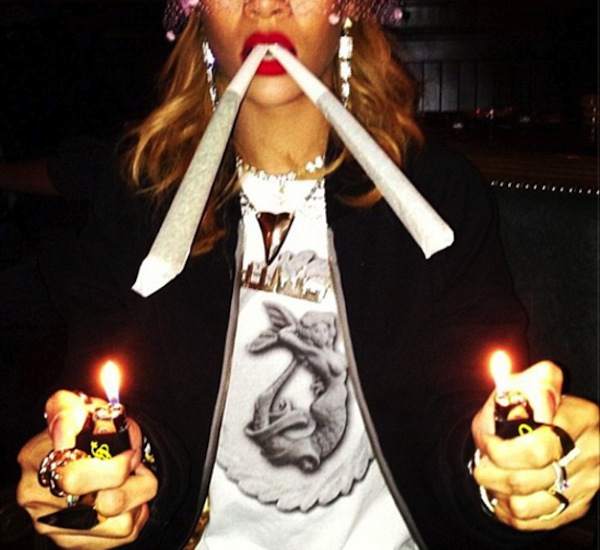 Of course that article did get under Rihanna's skin and the Bajan pop beauty sound off on Instagram in true RiRi style.
This is what Rihanna said:
"LOL!!!! My money got a bad habit of pissing people off!! If you sincerely wanna help little girls more than their own parents do, here's a toxic tip: don't be amateur with your articles, you sound bitter! What's all this about hair and nails and costumes and tattoos?? ….That s— ain't clever!!! That s— ain't journalism! That's a sad sloppy menopausal mess!!!"

"Nobody over here acts like they're perfect! I don't pretend that I'm like you, i just live… My life!!" she continued. "And I don't know why y'all still act so surprised by any of it!! 'Role Model' is not a position or title that I have ever campaigned for, so chill wit dat! I got my own f—ed up sh– to work on, I'll never portray that as perfect, but for right now it's ME!! Call it what ya want!! Toxic was cute, Poisonous Pop Princess had a nice ring to it, just a lil wordy!"
She also finished her off with some Bob Marley lyrics.
"Don't let them fool ya! Or even try to school ya! We've got a mind of our own, so go to hell if what you're thinking is not right!! Don't let them change ya, or even rearrange ya!! We've got a life to live! They say only the fittest of the fittest shall survive! Stay alive!"
Don't let them fool ya! Or even try to school ya! We've got a mind of our own, so go to hell if what you're thinking is not right!!

— Rihanna (@rihanna) June 25, 2013