Are Usain Bolt and Mario Balotelli feuding?
This is a most unlikely beef in the history of beef. Two hugely popular sports stars from two different sports.
But how it all started?
According to reports, Usain Bolt, who is in Rome for today's Diamond League, was asked about the Italian football star during an interiew.
This is what Bolt said:
"Balotelli is a great football player, although perhaps a little too aggressive for my tastes," Usain Bolt said. "He never misses a penalty. I've met him a couple of times and to be honest I don't like him very much."
That didn't go down too well with Mario Balotelli who hit back at the Sprint king via his official Twitter account.
"@usainbolt get to no people before to judge them! Isnt very kind what u said about me…" Balotelli tweeted before deleting it.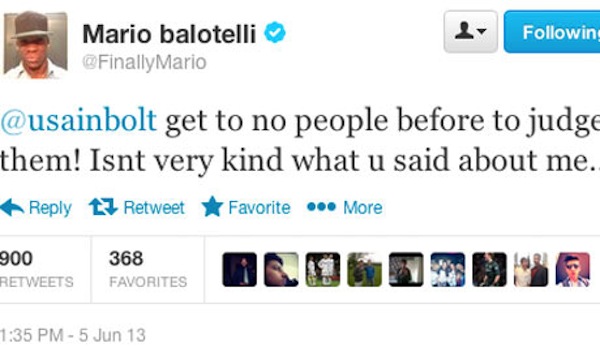 Usain Bolt is a huge fan of Manchester United football club and Balotelli played two seasons at United biggest rival Manchester City.
That could explain the beef.
Balotelli will be going to Milan next year.