Miguel brought his smooth voice to the 2013 Billboard Music Awards but that's not what caused everyone to be talking about the R&B singer.
During his performance of his single "Adorn" at Sunday's awards ceremony, Miguel made a dramatic jump but landed straight on a female fan as other members of the audience looked on in awe.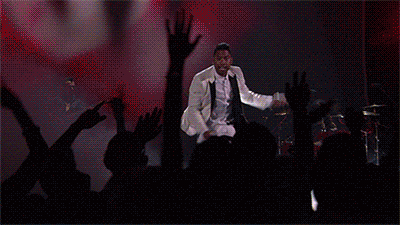 "Got caught up in the moment, thank goodness Khyati is okay," Miguel wrote on Twitter afterwards.
Miguel later spent some time backstage with the female fan he almost crushed.
"Well, I think it's kind of clear what happened," Miguel told Billboard after his performance went viral. "But I'm very happy to bring my new friend, Khyati, we just met . Unfortunately we did not meet under the best circumstances, but I think we're okay."
Watch Miguel performance at the Billboard Music Awards below.