Rihanna says she has been lonely for the last two years.
The Bajan pop beauty covers the upcoming issue of Vogue magazine. In her spread she opens up about her dating life and her relationship with Chris Brown.
The two have grown really close of late, to the point where everyone thinks they are back together. But that remains a mere speculation for now at least.
Speaking with the fashion bible, RiRi says she just want a guy to take her out and have a good conversation.
"I have not been on a date in forever," Rihanna said. "Like two years. Haven't gone to the movies, to dinner. Zero."
The "Diamonds" singer says she is tired of only seeing women around her.
"I would love to go on a date," she said. "You don't think that? I'm a woman. A young woman, vibrant, and I love to have fun. And I have too many v***nas around me at this point. Seriously, all I want is a guy to take me out and make me laugh for a good hour and take my a** back home. He doesn't even have to come up. All I want is a conversation for an hour."
On her relationship with Chris Brown, Rihanna says nobody really understand what's going on between them.
"To the world, I feel like there's no closure," Rihanna said. "There's some obsession that's continued even throughout when we weren't friends or couldn't be friends at all. Hated each other. The world hasn't let go. They haven't seen any progress in our friendship, because they don't see anything, really, besides the song. But they're not on the inside. They can't see what I see, unless they're sitting in my point of view. I guess I'll learn to accept that."
You can read the full interview at Vogue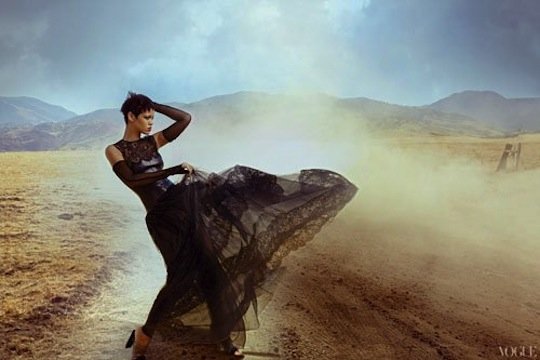 gallery