Rihanna pays homage to famous actress Marilyn Monroe when she squandered $160,000 for a custom crystal portrait.
According to reports, Rihanna appointed British artist Claire Milner to complete the 5 sq ft, 200 pounds portrait replete with 65,000 Swarovski crystals!!
The dazzling portrait includes shades of green, blue, black and white and changes color sending rainbows of light round the room.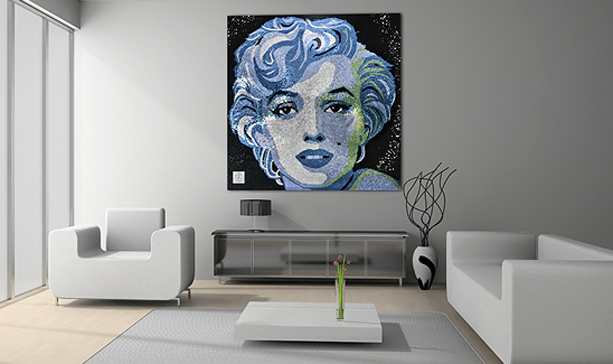 The "We Found Love" singer's admiration of Monroe stems from her struggles with fame. "I tried to show the glitter of the public life and then the sadness in Marilyn's eyes," said Milner. "Because of who Rihanna is, everything had to be done through her interior decorators. But they told me afterwards that she loved it."
"A 100 per cent Swarovski crystal portrait is very luxurious people stand and stare because it constantly changes color, sending rainbows round the room," added Claire.
The portrait was shipped to Rihanna's Los Angeles home.