J.O.P.'s Aidonia and dancehall mogul Corey Todd has teamed up to launch a new product, Yaad Stout.
Aidonia said his endorsement of the product is no surprise since he is fully behind the quality of the Stout.
"It's a quality product. Mi nah just seh dat 'cause I am a part of it. Yesterday the whole day we a drink it. It kinda taste good, sweet taste, nuh too bitter," he said. "Over the years dem always seh Aidonia have a strong underground market which is the streets. So wi know seh di yute dem rate wi and wi have it lock inna di street, so wi know seh we ago do good there so cause is a street product at the end of the day. But we ago tek it pon the commercial side also. So while me get bigger commercially a so di product a get bigger too. We ago do good man 'cause the yute dem a wait pon it."
Core Todd said Yaad Stout will be distributed across the Caribbean and will be an extension of Yaad Swag.
"Every wholesale you can think of, some supermarkets, inna di Caribbean, pon di corner shop, everywhere. Wi ago bring it to the people, dem nuh haffi look fi it, we ago put it right in reach," he said. "Beenie Man is the King of the Dancehall and Aidonia is the most promising deejay right now out of Jamaica. He has the younger fans, so it's only right. I have the King of Dancehall here and he covers a big fan base and we have the future here with Aidonia."
Yaad Stout will go head to head with other Stouts in the dancehall market such as Guinness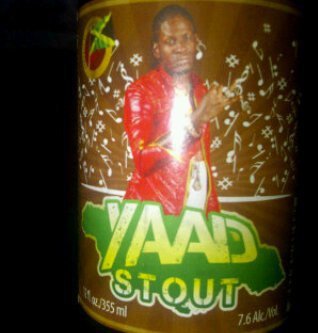 gallery