Young Money rapper Nicki Minaj took a break from touring with Britney Spears to enjoy a romantic dinner with rumored boyfriend Sarafee Samuel (SB).
Fans and paparazzi flocked the Katsuya restaurant in LA to get a glimpse of the "Super Bass" rapper. The duo held hands and Nicki even shot up the peace sign to adoring onlookers.
Nicki Minaj spent the early part of the day tweeting to fans and doing what Ms. Minaj does. Minaj share the stage with Britney Spears earlier this week at the Staples Center in Los Angeles on their Fimme Fatale tour stop.
See more photos of Nicki Minaj and Sarafee Samuel on next page.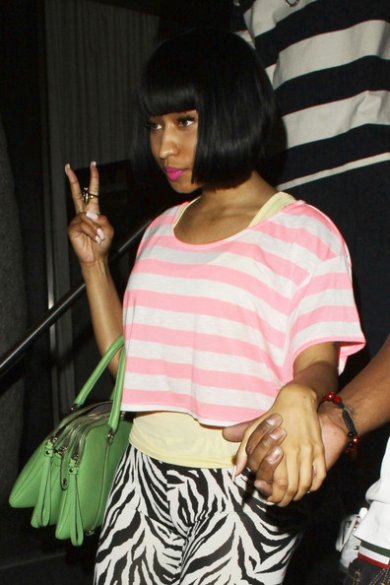 Nicki Minaj hold hands with boyfriend Sarafee Samuel.
More photos on next page