Jada Kingdom responds to the Hotties coming for her after Megan Thee Stallion drops her new song "Cobra."
The Dancehall artiste is setting the record straight that she is not the woman who was involved with Pardison Fontaine cheating on Megan Thee Stallion.
The Grammy-winning artiste dropped her first solo song for 2023, "Cobra," which marks her return to music after a very tough year due to the highly publicized Tory Lanez trial. However, while talking about how she felt as Lanez's fans raked her over coals, she expressed disappointment in her man not being there and even claimed that she caught Pardi cheating in her bed and receiving oral sex from another woman.
Pardison Fontaine has since deactivated his comments section so Megan's fans won't be able to harass him. He, however, shared a curious meme of Future, a well-known relationship 'villain'.
"It's a evil world we live in," Future says.
Pardi has not confirmed or denied the claim but many of Megan's fans went after his current girlfriend, Jada Kingdom especially since she has publicly stated her support for Tory Lanez despite him shooting the "Savage" rapper.
Pardi use this famous Future clip to respond to Megan Thee Stallion outing him for cheating allegedly with Jada Kingdom https://t.co/QryHfcbVgY pic.twitter.com/DIxrXQTA4w

— Urban Islandz (@urbanislandz) November 3, 2023
On her Instagram Stories, Jada seemingly shaded Megan Thee Stallion as the "president" of the Hotties and accused her fans of doing anything to please her. "Yow, unu liff up from yasuh and release mi," she wrote in one Story. She also questioned why people were connecting her post showing off her flowers to Megan's song.
"Sooo I guess I knew the lyrics before it dropped? right, and I decided to post my flowers 8 hours before as a 'hint, hint, it's me, guys.' HUH? why? The internet is a special place. I know it's gonna drive y'all crazy to not have someone specific to terrorize for y'all president but it wasn't me," Jada wrote.
In another IG Story, she wrote: "I'm mad that d*ck riding is a trend because how unu all suh f**kin stupid? Don't insert me in sh*t that got NOTHING to do with me. how did the math equal MEI? plus dat sh*t dumb as fuck! I got houses. Theirs hotels Motels Air bnb's Inn's sh*t even in the damn car. Why would i do that? HUH! this rumor gotta be the most embarrassing and hilarious one!!!! I'm doing the math & I almost sh*t myself tryna figure it out because HUH? Guh s**k unu madda and RELEASE ME."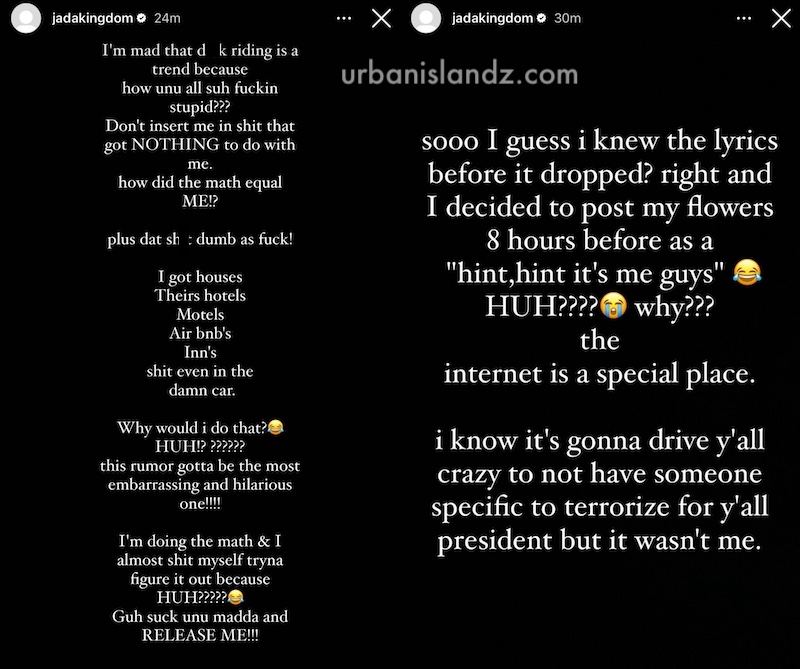 Jada Kingdom and Pardison Fontaine have been dating since September, when they first popped out at New York Fashion Week.
On the other hand, Megan Thee Stallion and Pardi are rumored to have broken up after the Tory Lanez trial at the start of 2023. She was previously seen with Belgian soccer star Romelu Lukaku in May, but it appears that they were both guests at a wedding. It's unclear if they were dating or if he could have been the man she rapped about in "Cobra."
Asian Doll chided Jada Kingdom
In the meantime, Asian Doll also took the opportunity to take shots at Jada Kingdom.
She and Jada ended up in a conflict sometime last year where Asian Doll claimed that Jada slept with Fredo Bang for $10,000. Jada later admitted that it was $35,000.
Asian seemed to relish the bashing Jada has received. "Same b**ch lied went live & said I f***ed n***as I didn't & that I was a hoe is the same b*tch getting dragged rn for being the REAL HOE THIS WHOLE TIME," she wrote on X. "Them tables always turn & the truth always gets exposed."
Asian Doll and Jada Kingdom were close friends before falling out earlier this year. The Jamaican artist accused Doll of being shady behind her back and even shared some tea about her dating life.