Rapper NLE Choppa is enjoying a warm tropical vacation after his brief stint in 'jail' as part of Kai Cenat's Twitch livestream for seven (7) days.
In new updates, NLE shared that he had flown out to Montego Bay, Jamaica, on October 30 to celebrate his birthday on November 1. The rapper, who has Jamaican heritage, shared several videos on his Instagram account showing him going river rafting and enjoying a relaxing mud bath.
He was also spotted on his birthday at the Groovy Grouper Beach Bar and Grill Review located at the world-famous Doctor's Cave Beach at the Beach Club. In a post shared to his Instagram story announcing his upcoming birthday, the rapper can be seen relaxing outdoors on a couch while he makes the peace sign. He is also seen in what appears to be shorts as his upper body is unclothed and reveals his full-body tattoos.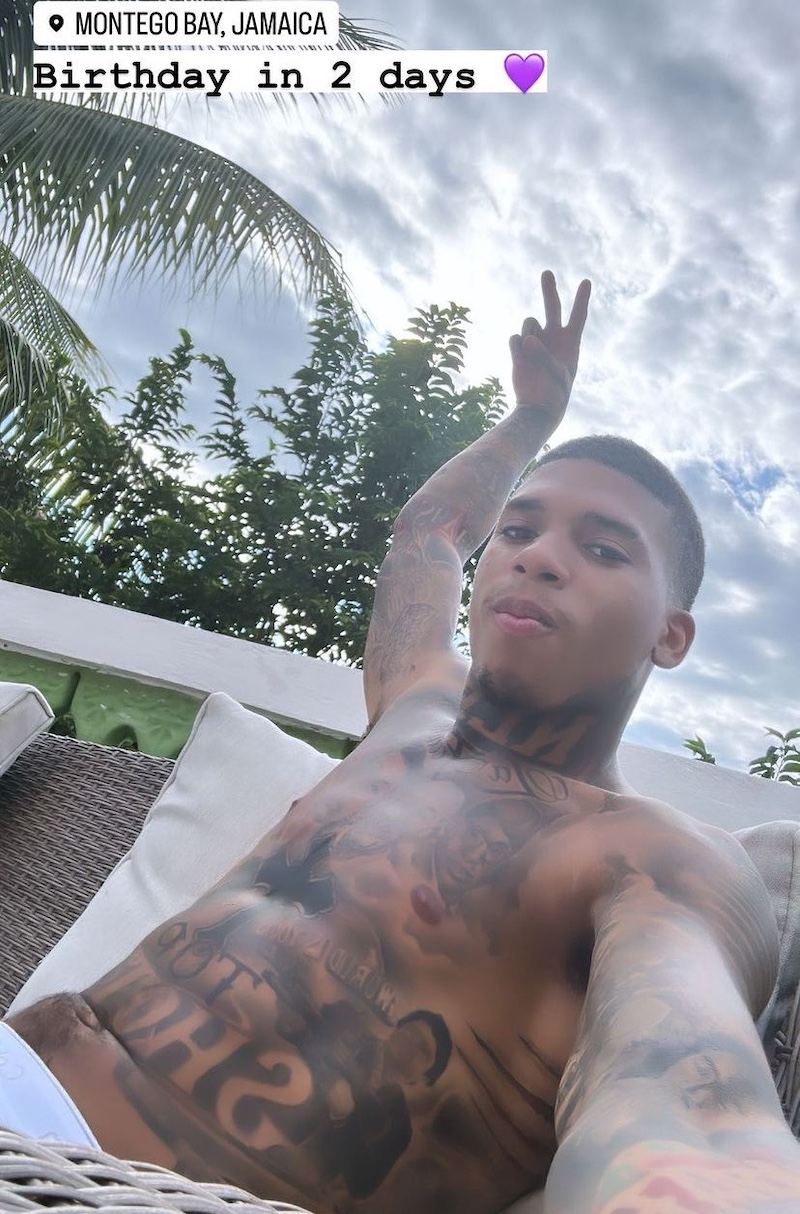 The rapper's vacation comes after he joined Kai Cenat for a livestream from jail that included several other celebrities. The Twitch streamer was accused of minimizing the impact of jail on African Americans and making a mockery of their pain and trauma inflicted by the justice system. However, the rapper debunked these accusations, noting that he was sharing awareness of what prison life is about as a deterrent to young people, most of whom make up his supporters.
This is not the first time that NLE has visited Jamaica, but he's been spotted on the island several times this year alone. He has been a frequent visitor since he first celebrated his 18th birthday back in 2021.
NLE Choppa connecting with his Jamaican ?? roots. Gets the famous mud bath treatment https://t.co/P3vg3thHnm pic.twitter.com/HcVay7jdf2

— Urban Islandz (@urbanislandz) November 2, 2023
NLE Choppa has never been shy about his love for Jamaican food and culture. After all, his mother is Jamaican by birth so he grew up learning about the culture. Last year, the Memphis rapper debut a single called "Jamaican Flow" in which he rap in Jamaican native language, Patois. In 2020, he also released a his Top Shotta album with guest appearances from Latto, Lil Baby, Roddy Ricch, and Chief Keef.