Atlanta rapper Offset says he was not bothered by the threats against him by Kenneth Petty, the husband of Nicki Minaj. While on the Breakfast Club on Wednesday, the rapper was asked about whether he contacted authorities but said he doesn't care that much.
"Man please, I will never do no lame a$$ sh*t like that…all that sh*t a joke. Grown a$$ man and doing all that. I don't even want to bring it up cause I don't want ppl to like…I just laugh and sh*t, I got real money, I'm handling real business… I'm on a jet bro," the rapper said while explain what happened with Kenneth Petty and his crew in New York City.
Offset added that he was not going to let anyone get him back into street life. "You know how long it took for me to get away from that? That bullsh*t online…anything in that manner I just blow it off," he added that he went to jail in the past, and now he's "too old" to deal with street life.
The Migos rapper also said he "don't speak on my wife or Imma DM you to see what you doing," noting that he didn't intend for the matter to go public, but it turned into "goofy sh*t."
"You threatening my wife and I'm not playing those games. I hate when men say anything about my wife because it's like you're a man. Don't speak on my wife bro…this is my wife, mother of my kids," he said, adding that DJ Envy also doesn't play with his wife after he threatened to slap Tyrese Gibson recently.
Offset explains why he accused Cardi B of cheating
In the meantime, Offset says he has to constantly protect his wife, Cardi B, because his past cheating has caused rival fan bases to insult her.
"Fans be trying to kill a n***a, sometimes you gotta be like I feel like I gotta protect her. I made mistakes you get what I am saying, so those mistakes make me gotta continue to protect her as a man," he said.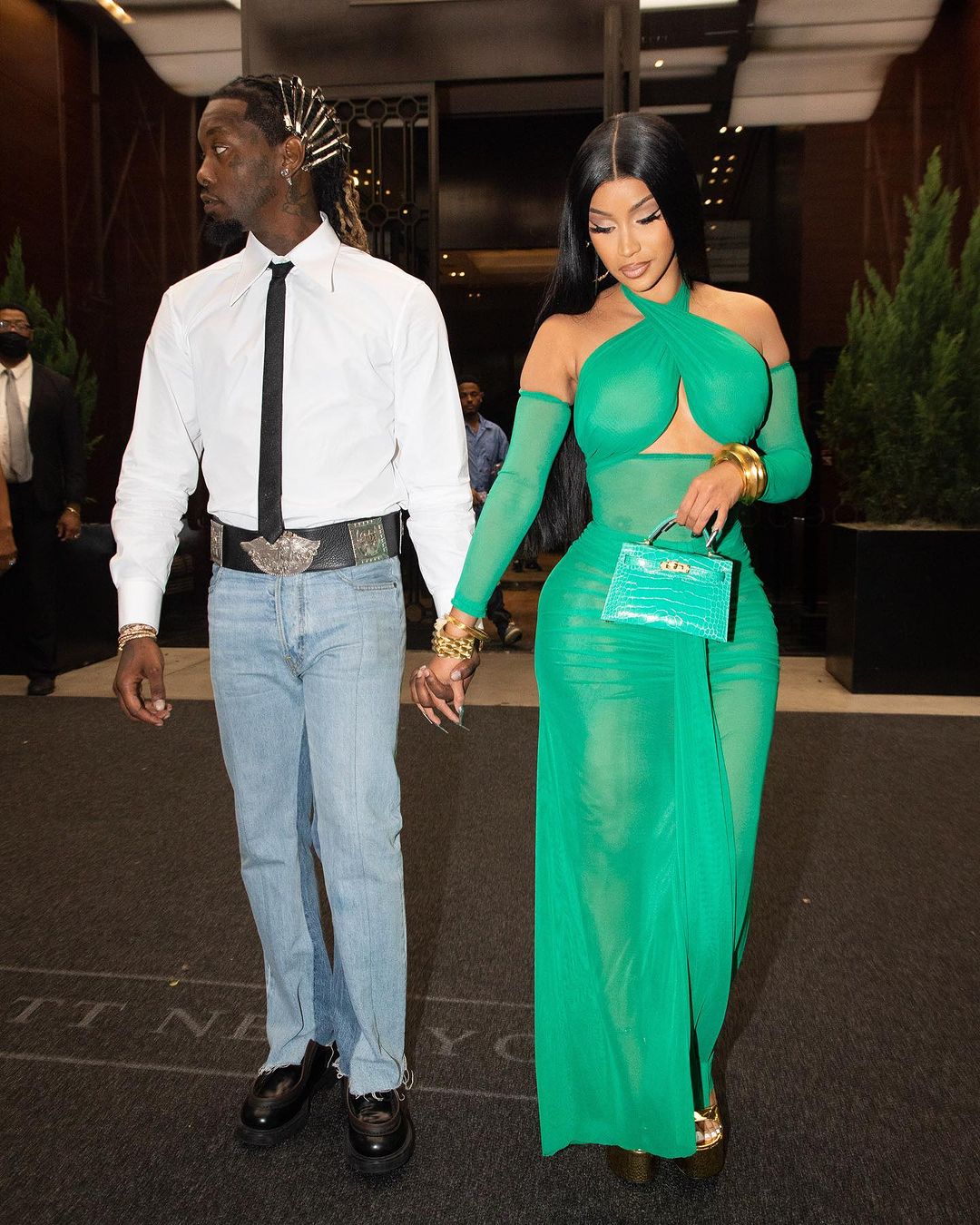 "We don't bother nobody but you know how it be," he said.
Offset also addressed the claim that Cardi B cheated on him, noting that it was "cap." "People thinking this sh*t real, reverse uno card," he said, adding that he did it to sort of even the ground between them since fans love to bring up his past.
Offset also spoke about his move from the Migos to a solo career. The rapper took his solo journey seriously in 2022 as he split from Quality Control.
He revealed that he's now getting ready for his sophomore album, Set It Off to be released on October 13, 2023.
"I want to make sure everything is in line. I don't want no record sounding the same, I don't want me sounding the same, just being hard on myself and critiquing myself," the rapper said about his work on the latest project.
The rapper said that the album is "a little different than before," especially given the events that occurred since him leaving the Migos in 2022 and his close friend, Takeoff, being killed later that year.
Offset discuss his current relationship with Quavo
The "Clout" rapper also said he was open to making music with the remaining Migos member, Quavo, and said he was motivated by new things since going solo. Set also calls Quavo his brother and said their current relationship is good.
"I think so. Right now It's more for me putting my foot in the game cause this is the situation. Also, business-wise I'm on my own. I'm a grown man, I got five kids, I gotta make sure I'm putting food on the table."
Offset's first album Father of Four also differs from his sophomore project, noting that he worked with different producers to give him range and show off his musical versatility.