Drake steps in to warn Druski about picking a beef with Birdman on social media.
On Friday, October 8, the comedian shared a video of himself telling his followers on X that the Cash Money vs Coulda Been Records beef continues. If you recall, Druski and Birdman had a little back and forth on social media earlier this year, leaving some fans to wonder if it was a serious beef or a skit they were doing. To this day, no one knows the true nature of the feud is pretend or serious.
At least on Druski's side, it appears to be part of his comedic persona, but Birdman seems quite serious about his response. Drake didn't help the situation since his tweet only left fans more confused.
"Cash Money vs Coulda Been BEEF CONTINUES," Druski wrote in the caption of the clip of him listening to a song he said Drake stole from him. Birdman responded, tweeting, "Bro you still playin with a real gangsta SMH."
Drake later chimed in with a warning for Druski. "Stunna bout to have you come up missing on Gladys," Drizzi wrote.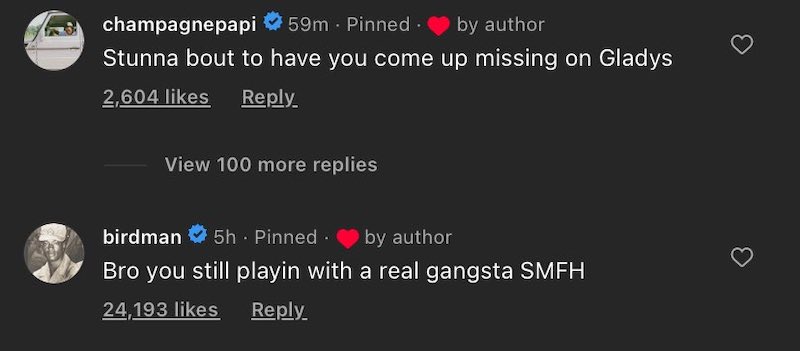 On Saturday, Druski went a step further and shared a video of a personal trainer with the caption, "Birdman been in that Gym [Eagle emoji]."
While a lot of his followers were laughing in the comments, some folks warned him to stop playing with the Cash Money honcho because it could end badly for him. "Something really wrong with you bro," one fan wrote. Tierra Whack wrote, "You sitting down listening is crazy."
It's unclear which of Drake's new songs Druski thinks he stole from him, but last week, the comedian posted a video of himself in a skit where he was also in a studio recording a song with the lines "Standing On Business."