Rick Ross and Meek Mill say they helped each other overcome their substance abuse problems.
Hip-hop culture has long been permeated by the use of recreational drugs and narcotics. While some rappers broach the subject only to bring listeners the vicarious pleasures of being buzzed, many still respect the authenticity of the storytelling genre and are truly living the drug-hinged life they depict in their music. It has become commonplace for rappers to use substances, but what is atypical is hearing two rappers admit to being each other's sponsors in their pursuit of sobriety.
Meek Mill and Rick Ross revealed that they played a major role in each other's journey to reverse engineer their substance abuse habits. In a new interview with Ebro Darden on Apple's Rap Life, the duo signed on for a chat where they discussed MMG, record deals, their upcoming joint album, and much more. During the interview, Meek opened up about his health issues back in 2019, which stemmed from alcohol abuse.
"My stomach was bent over for like a year-and-a-half," the rapper explained. "I came home 2019, I couldn't smoke weed or really drink liquor like that. Before 2019, I was off the lean and all that. I changed my lifestyle — well, I thought I changed.
"Tried to change over to the liquor every day 'cause I'm being on tour, after-party. That sh*t kinda ruined my stomach so I had to sit down for a minute, let my sh*t build up."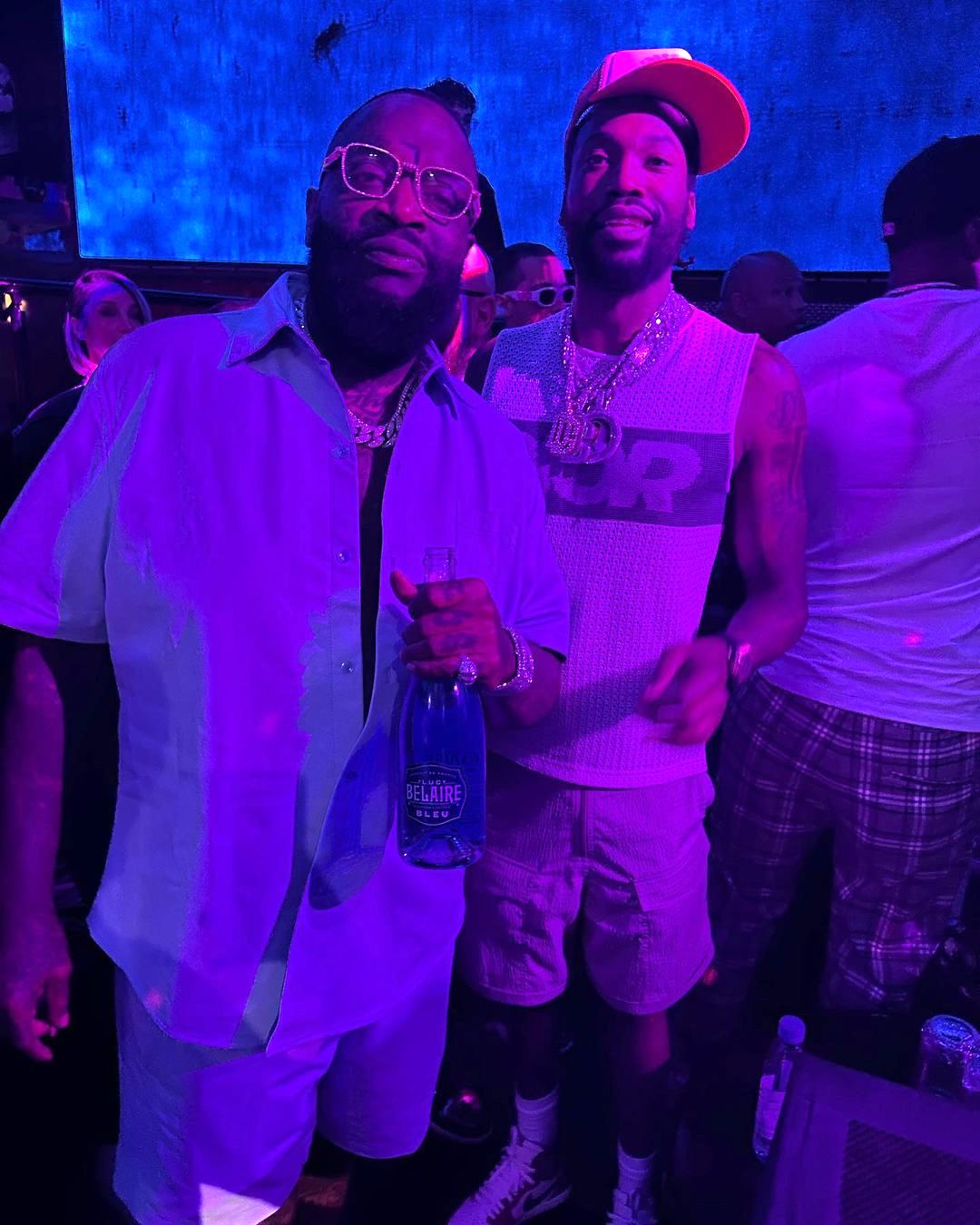 Meek continued: "That was another human trial that we go through on the inside and then it's like, 'Yo, when you dropping?' I'm telling my own family, 'Yo, my stomach f***ed up. I weigh 170. I'm hit right now!' But people wasn't seeing it, though. People will see it or might make a joke about it, but in real life like, yo, my sh*t f***ed up."
Rick Ross chimed in to reveal that he had his own fair share of close calls and health scares in his equally troubled past with substance abuse, so he was there to encourage Meek to get better and do better.
"That being little bro, it could be something that you walk into the studio, you walk into your homie and you see your homie not all the way on his A game," Ross explained. "That's one of the things that me and Meek most definitely had conversations about — vice versa, though."
He continued: "Me drinking lean at a time and now, I'm taking medication two times a day because of this. And then you walk into a session, you see your little bro, 'Aye little bro man, we gotta tighten up on this shit.' It's a lot of different ways we can have issues, or back and forth, but we always got the money."
Meek Mill went on to explain his plans to maintain his good health and to continue to get his life together. "I just woke up at 7 o' clock today because I'm getting my life together, the way I handle myself; talk to my son in the morning, make some music, get on the beats," he shared. "[There were] times when I was just running out and just getting the money, having fun, having the chicks, buying new cars but I wasn't really getting my life together."
The Philadelphia rapper went on to call Instagram a "highlight application" and "super costume" before adding, "But what about your real life? I was getting my real life together."
Rick Ross was happy to cosign the new mindset by lauding Meek Mill's progress. "He most definitely in a different space; a real positive space. He on his A game," the Maybach Music Group founder said.
The duo dropped the lead single "Shaq & Kobe" from their impending joint album last week with an accompanying music video that has already garnered nearly 4 million views on YouTube. The visuals feature Rozay's brand new private jet, which is branded with the MMG rapper's name in graffiti style across the exterior of the cabin. Ross told Ebro that he had surpassed 100 million in spending over the last six months.
Both rappers appear healthy and happy, as the interviewer later pointed out before they wrapped up. Their collaborative project titled Too Good To Be True is slated to arrive at the end of October, according to TMZ. Ross recently told Ebro Darden, "This just was a quick vibe. Maybe two and a half months, you know what I'm saying?"
Turns out the two rappers were never actually beefing, contrary to popular internet gossip. If their undeniable chemistry on "Shaq & Kobe" is any indication, this duo has a pretty solid album in store for fans.