Chrisean Rock seems to be taking a passive-aggressive approach as she praised Lil Baby over the weekend in response to Blueface showering her sister, Tesehki, with praises for not engaging in fighting on the latest episode of Baddies East.
Over the weekend, it seems that a new episode of the show aired following Rock's delivery. In one clip that has since gone viral, the new mother gets heated and becomes aggressive as she calls out fellow cast member Woah Vicky for liking her baby father Blueface's tweets.
Rock and Blueface have not been on good terms since he posted a disturbing photo of her son's body showing the massive hernia the child was born with. There are reports that the child is to get surgery today (October 2) in Baltimore. However, Blueface's tweets went viral and caused many to bash Chrisean, especially since he said she had been putting off the child's surgery in favor of doing other things.
Chrisean Rock confronts Woah Vicky
On the show, Rock confronted Woah Vicky in a bid to fight her. However, Woah Vicky refuses to fight with her, and Rock's sister Tesehki is heard telling Rock not to fight a defenseless person who won't swing back.
"This lil white b**tch is liking and retweeting sh*t on Twitter about what my baby's father has to say about my child. Oh, you doing little sh*t to get under my skin," Rock said.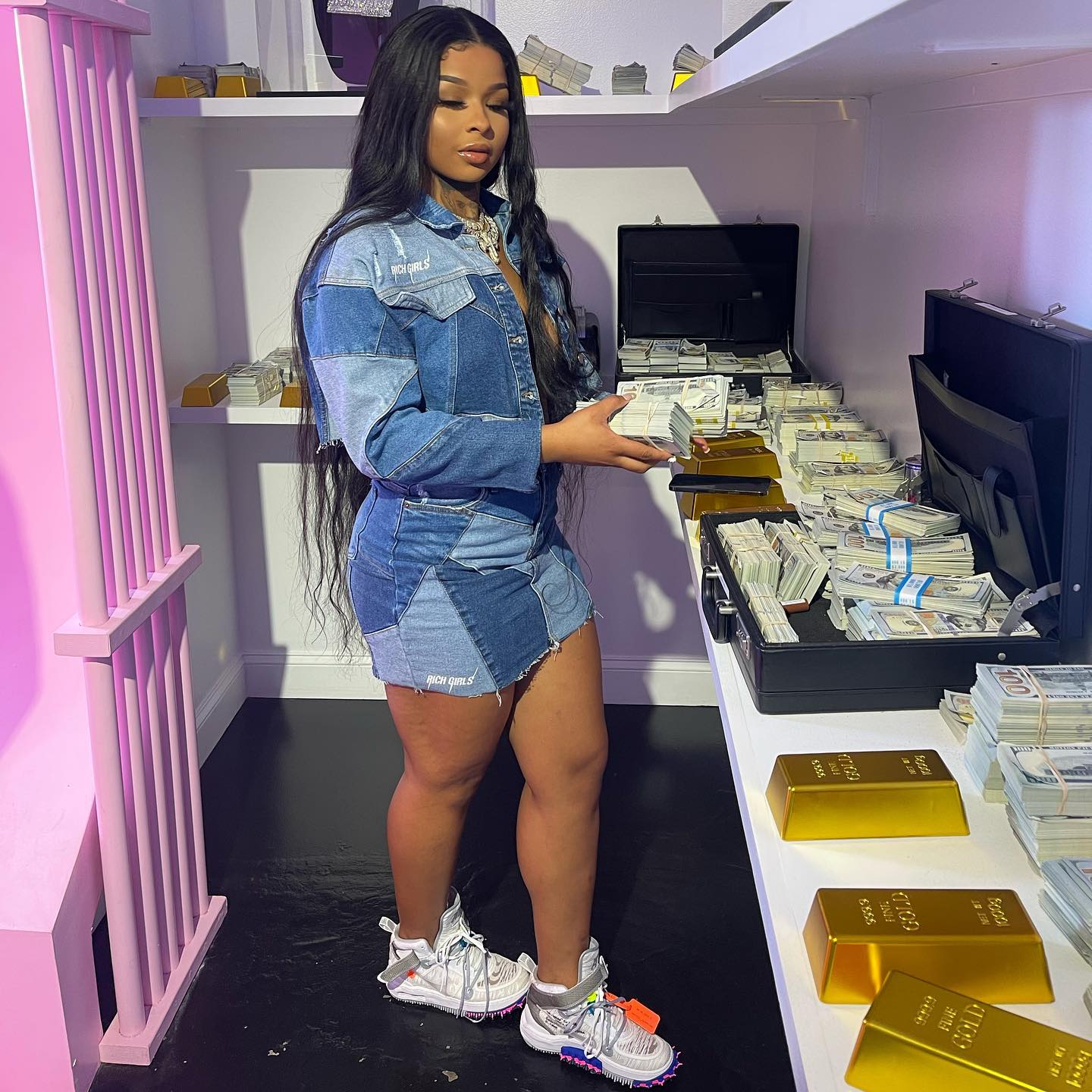 Rock was heard telling Tesehki to "slap that b***ch bro," but her sister refuses to inflict violence on her. "She sorry, she fragile bro, Im not a bully, it's not worth it bruh, y'all just need to apologize," Tesehki added.
Rock chimes in, "She being nice," but Tesehki corrects her, "I'm not being nice, I'm being cordial."
Blueface had praises for Tesehki as he tweeted, "Tesehki a real one." The move was definitely one that Blueface was using to take a jab at Rock, and she also responded in kind writing, "Lil Baby a real one" on her Twitter account.
Lil Baby is somehow in the middle of the drama between the two as Rock claims that Blueface said Lil Baby is possibly the father of the child she just had. The rapper seemed to have a problem with Rock and Lil Baby meeting months ago and her being friendly with the "Drip Too Hard" rapper.
Lil Baby responds to Chrisean Rock
Lil Baby took to X, formerly Twitter, on Monday to tell Chrisean Rock to stop using his name to troll her baby daddy Blueface. The Atlanta rapper also cleared the air on rumors he tried to hook up with Rock earlier this year, ultimately causing a rift between her and the "Thotiana" rapper.
"I ain't with the trolling s**t!" Baby wrote. "I be laughing at certain s**t but Aite now stop playing I ain't never tried to talk to no mf chrisean !! Please stop attaching my name to that!"
Lil Baby added in another tweet, "I seen her at a party an told her some real s**t she know I never tried to talk to her! I know I bring attention but chrisean even trolling about a child an stuff is too far !! Like [annoyed face emoji]…Thanks."
In her response, Chrisean Rock thanks Ll Baby for clearing the air on the rumors while blaming Blueface for being insecure.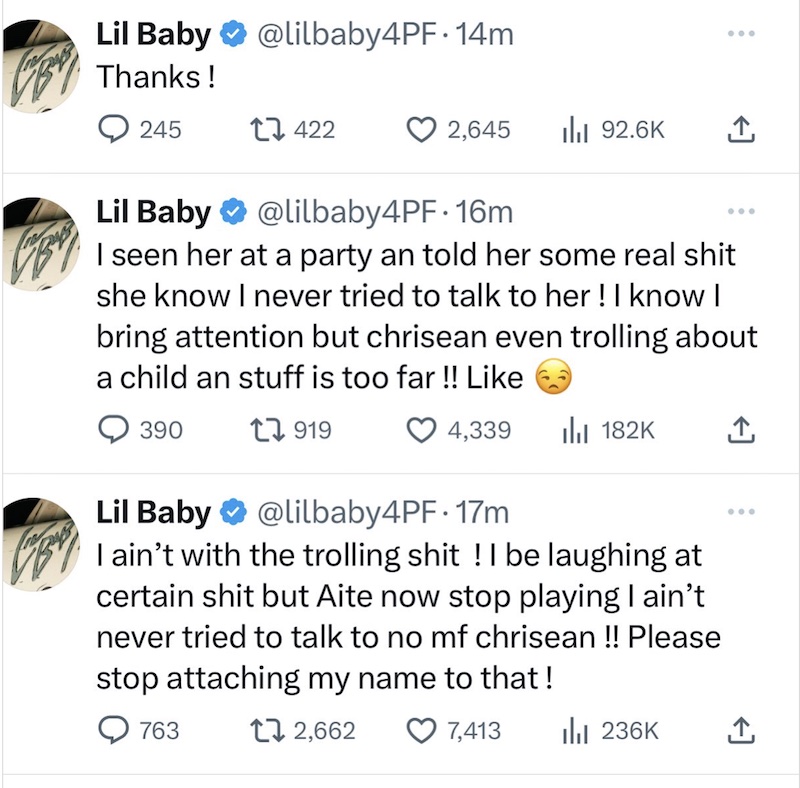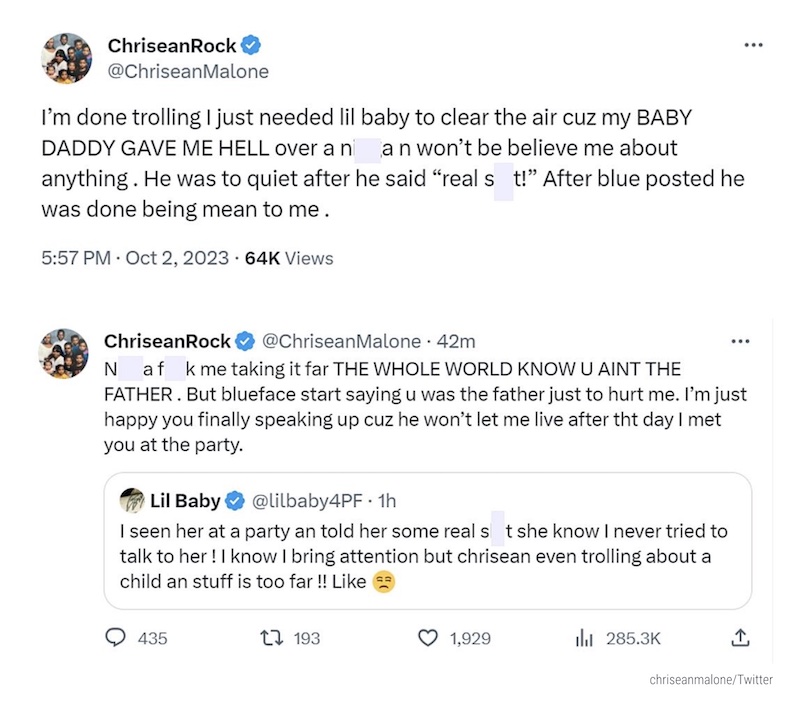 "See he finally said it," she wrote. "FACTS TOLD YALLL I BEEN ATTACHED TO HIS NAME BECAUSE MY BABY DADDY INSECURE ASF TOLD YALL .. someone tell blue he can stop trolling me."
"I'm done trolling I just needed lil baby to clear the air cuz my BABY DADDY GAVE ME HELL over a n***a n won't be believe me about anything," she continued. "He was to quiet after he said 'real s**t!' After blue posted he was done being mean to me."