Tems is not here for fans who have taken it too far and claim she is pregnant for American rapper Future.
Tems and Future are no strangers to each other as they previously collaborated on the Grammy-winning song "Wait 4 U" in 2022 with Drake. The song was released on Future's album I Never Liked You and went on to win Best Melodic Rap Performance.
The song launched Tems' career in the United States, and she went on to work with the likes of Rihanna on "Lift Me Up." However, Tems has long been a star in her home country of Nigeria with songs like "Free Mind," "Crazy Things," and "Essence" with Wizkid.
In recent times, fans have been nothing short of intrusive as they speculate on her life, and some have even criticized her for acting like an American girl due to her fashion choices looking very western versus her cultural Nigerian lifestyle that she constantly reps.
The prying came to a head over the weekend after some fans tweeted that she was pregnant following her photos from London Fashion Week. In one photo, Tems is seen wearing a long black dress that clings to her body and a long purple fur coat. While approaching the press, she is seen pulling her coat together to hide her protruding stomach.
It's unclear how the rumor came about that she was pregnant for the "Life is Good" artiste, but someone tweeted several developments in the hip-hop world and added the pregnancy claim.
Among the latest happening in the space include Jeezy and Jeannie Mai's divorce, Teyana Taylor and Iman Shumpert's separation, Remy Ma allegedly cheating on Papoose, Halle Bailey's rumored pregnancy, and Nicki Minaj's husband getting placed on house arrest for threatening Offset. Tems' rumored pregnancy for Future is only the latest thing racking hip hop.
However, it seems that the rumor is just that, as Tems posted a photo of herself looking perplexed as she reacted to the claim.
"In conclusion, you people are all mad!" she wrote on Twitter.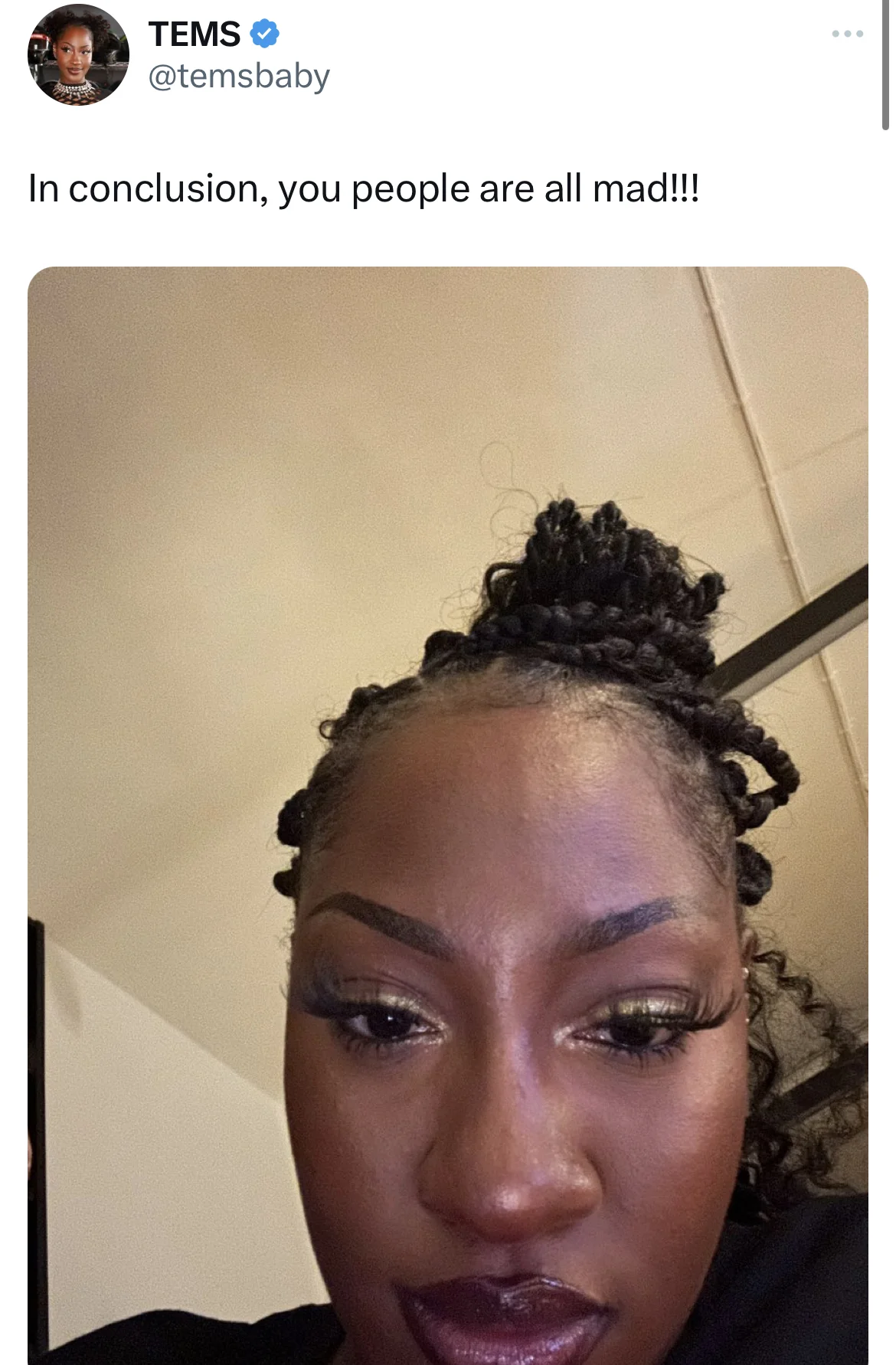 Before Nick Cannon, there was Future, who had a notorious reputation for impregnating every woman he dated. However, where and why he and Tems would be linked romantically is unclear.