Cardi B is doing a press run for her new song "Bongos" with Megan Thee Stallion, and the Bronx bombshell is reacting to the mic-throwing incident in Las Vegas last month.
During a Las Vegas concert, Cardi B was performing when a fan threw a cup of ice and water to her face, and she reacted by throwing her mic at the fan. The rapper did not face criminal charges after she was cleared by the Clark County District Attorney's Office which said it did not have sufficient evidence to prosecute Cardi.
Las Vegas Metropolitan Police had reported to TMZ that the rapper would be on the hook for battery, but the report by the concertgoer was later dropped. While on The Breakfast Club, Cardi however insinuated that she had no regrets for the incident because her specific request was for fans to splash her with water to cool her down.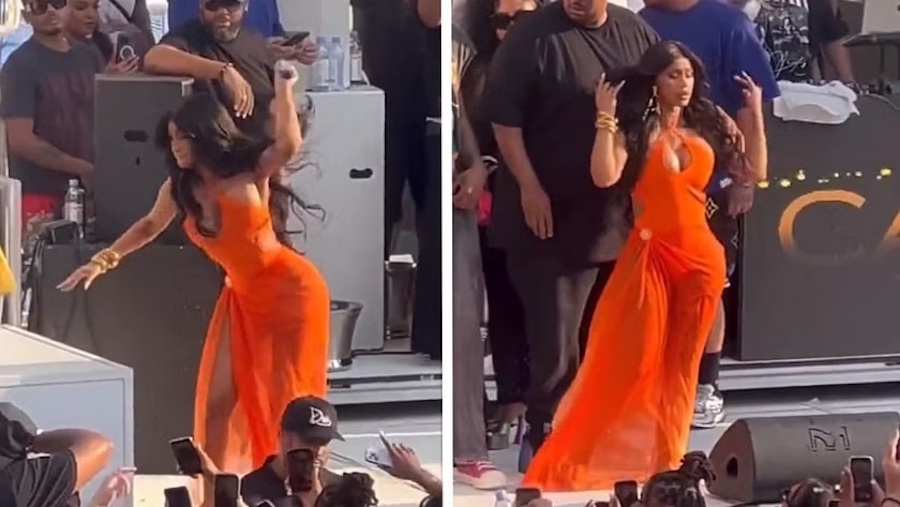 "It was really like a quick reaction," Cardi responded after being asked about throwing the mic and joked that she didn't want to address it because she thought she was going to jail.
"It was hot as f***… it was hotter than a mfer, there was a part of the show that I told people you know, splash me, but even when I told people to splash me, I was like be careful with the face, the face was beat. So f***ing four songs after, 15/20 minutes later, this b**ch throw water and ice on my face," Cardi explained.
She continued that her reaction was instinctive.
"I just automatically reacted. I didn't even know that I was throwing the mic. I just threw the sh*t because b*tch you hit me right in my face and when I looked at the video, nah you intended to throw that sh*t in my face. And the way she threw it [throwing motion] and that sh*t had ice… you fucking throw some ice in your mfking face and you gon tell me how the f**k you feel. I feel very violated," Cardi said.
The artist also denied that she had invited fans to throw stuff on her and said that the invite to splash her body was for one segment, not twenty minutes later. Some fans did splash her with water when she made the request.
The Bronx rapper said she felt that the woman was trying to clown her.
"No no, you was trying to be funny but hah aim hilarious though," Cardi said.
The woman in question who threw the water was seen immediately apologizing after Cardi threw the mic. There are reports that the woman Cardi hit was not the same one who threw the ice on her face.