Baddies West star Chrisean Rock has gone into labor as she prepares to welcome her baby boy to the world.
The reality TV star posted an update on Sunday morning where she discusses with her family members the pain she is feeling as they take her to the hospital. Chrisean Rock is heard telling a woman who is driving her that she is not ready for the birth as she has other things to do.
"I am so mad because I was to perform today," she says, adding that she's sure that she wasn't feeling Braxton Hicks contractions. "This sh*t been going on all morning. It hurts so bad I can't sit down," she said.
She is seen sitting on her knees as the car moves instead of the conventional way on her buttocks. The "It's A Vibe" Artiste appears in a good mood as her family jokes with her and laughs. In an update, Rock also shared a video from the delivery room where she is prepped for birth. A nurse is heard discussing what's likely to happen during birth.
"If you poop you poop, we clean it up. You cleaned it all out these past days, you said you been pooping like crazy…don't worry about it," the nurse told Rock about the labor process. "I'm scared to move," Rock says, but the nurse assures her that they are experts on the vagina and labor, which seems to ease her fears.
This is Rock's first child with her rapper ex-boyfriend Blueface. She's not the only person looking forward to her baby. Blueface's mother, Karlissa Saffold, ensured that Rock knew she was there for her.
"I'm coming to Rock! Call me if you really in labor," Karlissa posted on Instagram Stories.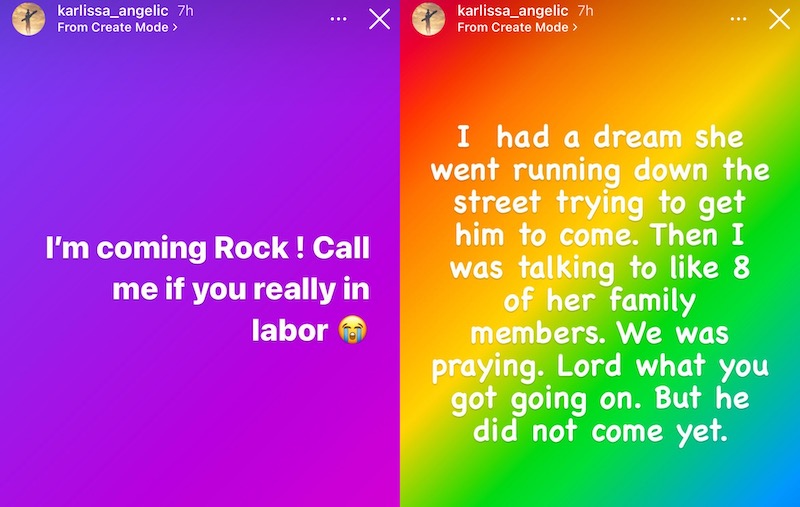 She added that she had a dream that Chrisean Rock was running down the street trying to get Blueface to show up. "I had a dream she was running down the street trying to get him to come," Saffold wrote. "Then I was talking to like 8 of her family members. We was praying. Lord what you got going on. But he did not come yet."
Blueface and Chrisean Rock have had a volatile relationship since revealing they were dating last year. Rock announced earlier this year that she was pregnant, which resulted in Blueface denying that he was the father of her child. He claimed that she allegedly had ten different sexual partners over the past year, and any of them could be the father of her child.
Chrisean Rock Went Live After Going In Labor, Blueface's Mother Offers Her Supporthttps://t.co/C21SmS5zlt pic.twitter.com/jCeKqD4b9y

— Urban Islandz (@urbanislandz) September 3, 2023
However, he later comes to grips with the gravity of the situation and accepts that he is the father of her child on their reality show, Crazy In Love.
The Los Angeles rapper also hooked back up with his baby mother, Jaidyn Alexis, after announcing that he and Chrisean have broken up and that their relationship is strictly business going forward. Blueface also revealed that he spent $30,000 on a BBL for Jaidyn Alexis.