Drake jumped to the defense of a female fan who a male fan tussled with for a sweaty towel Drake threw for her.
Drake's "It's All A Blur" tour passed through the Kia Forum in Inglewood, California, on Saturday night, with another show scheduled for Sunday, August 13, at the same venue, which will conclude the Los Angeles leg of the tour. Yesterday, Drizzy shared that he had to pull all the stops to make the tour dates happen for his fans in L.A.
"Los Angeles, if you knew the things we had to do today to get this show off smh… but for you, anything. I will see you tonight," the Canadian rapper wrote in a statement on his Instagram Story.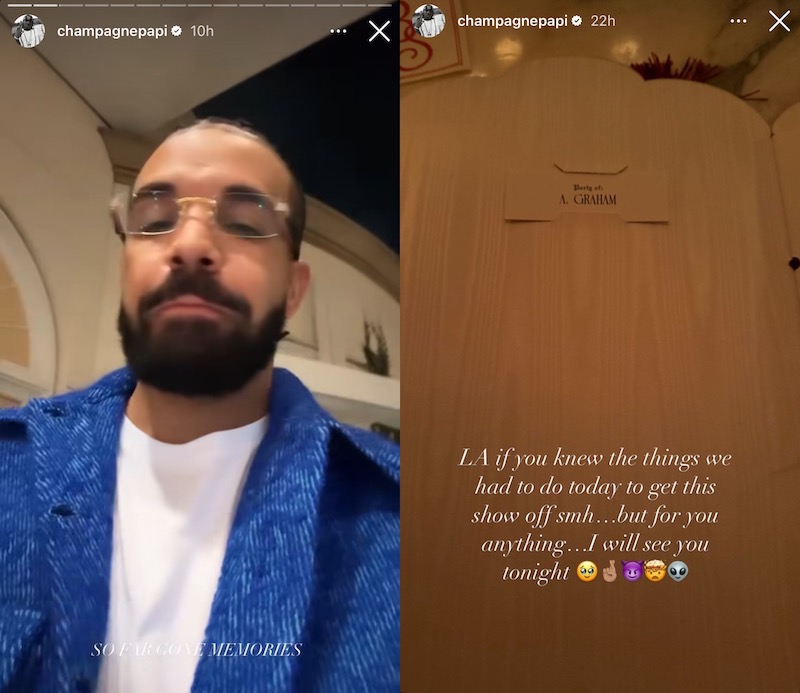 In one incident at the show, Drake was spotted heading backstage with his security detail and other crew members when he decided to toss the towel he used to dry his sweat to a bunch of screaming female fans. The problem is a male was there who decided to tussle with the ladies for the towel, and that apparently angered Drake, who confronted him.
"I'ma send someone up there," Drizzy could be heard telling the male concertgoer. The 36-year-old rapper also appeared to be wanting to go and confront the male fan in person, but his security wisely advised him otherwise and ushered him quickly backstage.
Another clip has since surfaced, showing the female fan catching the towel first before being wrestled to the ground by a man. Drake also seemingly promised the female fans more goodies as he headed backstage for a brief break before going back on stage.
In the meantime, the moment was special for Drake as he brought his son Adonis Graham to the show. He even told the ladies in the audience not to throw any bras as they did at other shows because his son was in the building.
Drake and 21 Savage continue their "It's All A Blur" tour this week in San Francisco with two shows in that city before moving back to Los Angeles, where they will perform at the Crypto.com arena.