Drake remains one of the biggest artists on the planet and perhaps the greatest rapper, but he still begs a few other artists for features.
In an era where most artists would give anything for a Drake feature, the Canadian rapper still has a few he considers his equal in the rap game, and J. Cole is one of them. It's no secret that Drizzy has a lot of respect for the Dreamville rapper, and it's safe to say that the respect goes both ways. The difference between the two is that Cole rarely gives features, while Drizzy gives a lot of strength, especially new artists.
Drake and his collaborating and touring mate 21 Savage pulled up in Montreal, Canada, on Saturday (July 15) night with their joint It's All a Blur Tour, and he had a big surprise for the packed audience. During his set, the OVO leader called out J. Cole for a surprise performance sending the audience into a frenzy.
"Montreal, I want you to understand something," Drake said. "It takes somebody that really not only loves the art of this shit, but really loves all of you to get on a plane, come here for two nights and represent for Montreal. So make some mutha****ing noise for my brother, all the way from the 'Ville, he goes by the name of Jermaine Cole. I need you to get as loud as you can!"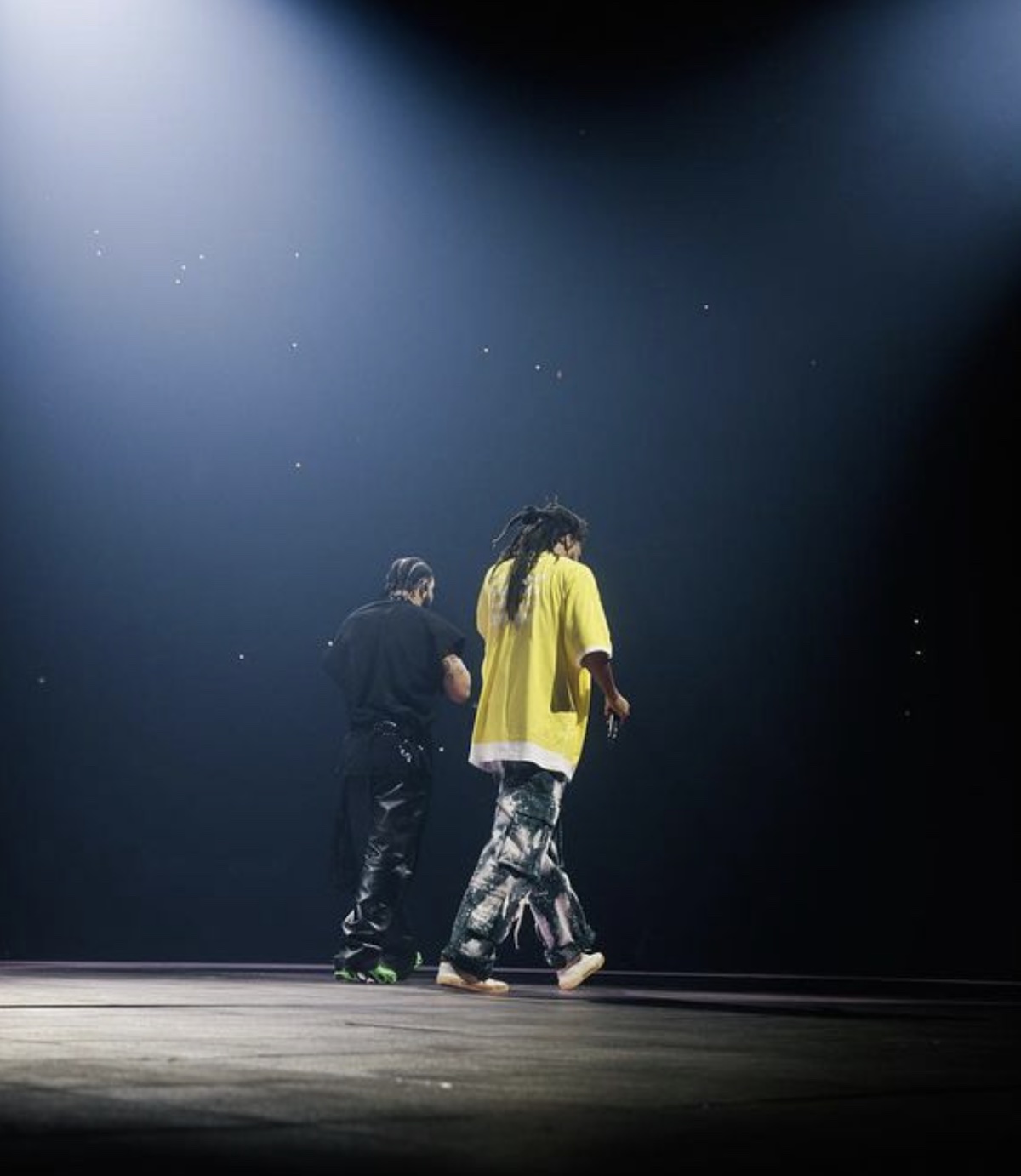 Calling J. Cole on stage wasn't the only surprise move by Drake as the rapper asked the North Carolina native to be a featured artist on Cole's upcoming album. Cole himself was quite surprised when Drizzy paused for a quick intermission to ask him for the feature in front of the entire crowd knowing the clip would hit the internet.
Drizzy is currently readying his new album For All The Dogs, but it seems it's J. Cole album he wants to be on. Cole is notorious for dropping projects without any features, so perhaps Drake wants to end that.
"Maybe I could get on the album?" Drizzy said on stage, prompting Cole to respond saying, "N***a!"
Not satisfied with the response, a relentless Drake pressed J. Cole asking, "Can I get on the album? I'm a ask in front of Montreal. 'J. Cole, can we get on your album?'"
He eventually gets a more direct response from an almost frustrated J. Cole, who replies, "Say less, goddammit!"
Drake and J. Cole have maintained a close friendship throughout the years after breaking onto the scene around the same time and making a similar impact, although the Canadian rapper has been far more successful commercially. The two rappers' names are often mentioned among the all-time greats in hip hop and certainly in the top 5 among rappers of their generation, with Cole building a name for himself as a lyricist.