Boosie Badazz is defending Coi Leray after her new album, COI, sold 10,000 album-equivalent units in the first week of release.
In case you see Coi Leray trending today, it's primarily because her sophomore album's first-week sales data hit the net on Monday. While there was some decent amount of promo and media coverage around the album leading up to its release on June 23, 2023, the project didn't do as well as anticipated.
COI debuted at No. 102 on the Billboard 200 chart after selling 10,000 units in the first seven days of its release on streaming platforms. She tapped artists like Skillibeng, Lola Brooke, Saucy Santana, and Giggs for the project. French producer David Guetta also made contributions to the single "Make My Day."
Some fans flocked to social media to either share their disappointment or troll Leray about her first-week album sales. Still, the young rapper is taking the criticism with grace as she tweeted that she is proud of her sophomore album and encourages her fans to stream the LP.
"Grateful to have an album on the top 200 for my first week of my album release, again," she wrote in a tweet. "This time with 3 hits on the hot 100 … woah. I'm super proud of myself. Bigger and better year every time. Keep streaming #COI [arrow hearts emoji] it's an AMAZING project."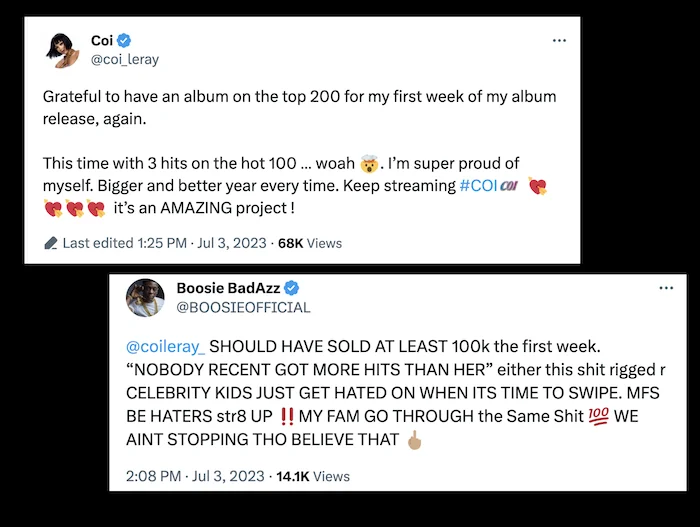 Among her peers in the hip hop community defending her is Boosie Badazz, who himself has been having a rough year so far with mounting legal troubles.
"[Coi Leray] Should have sold at least 100k the first week," Boosie wrote. "'nobody recent got more hits than her' either this shit rigged r celebrity kids just get hated on when its time to swipe. Mfs be haters str8 up ??my fam go through the same sh*t we aint stopping tho believe that."
Boosie Badazz recently received a lot of love from Coi Leray when she ran into him at an event. The Baton Rouge rapper has been a big supporter of her career over the years.