Playboi Carti and NBA YoungBoy are getting ready to release their collaborative album. The artists appeared to confirm the making of the joint album, which has left fans excited as both Carti and YoungBoy's fan bases are described as "cultish" based on how they support the artist.
There are reports that they are working on a full-length album, but very few details have been shared.
However, fans are convinced that something is in the works as Carti shared a photo of NBA YoungBoy wearing an upside-down cross chain from celebrity jeweler Jewellery Unlimited by Wafi Amin Lalani.
The photo of the artist shows YoungBoy biting his lower lip as he stands facing the camera while wearing a long sleeve red shirt with the words '3800 Neverbrokeagain' emblazoned on his left chest plate and 'Never Broke Again Word Tour' emblazoned on the front of the shirt.
Jewelry Unlimited also shared a close-up video of the chain with a little detail that hinted at what's to come.
"004KT @playboi Carti gifts YoungBoy a chain ahead of their new collab album."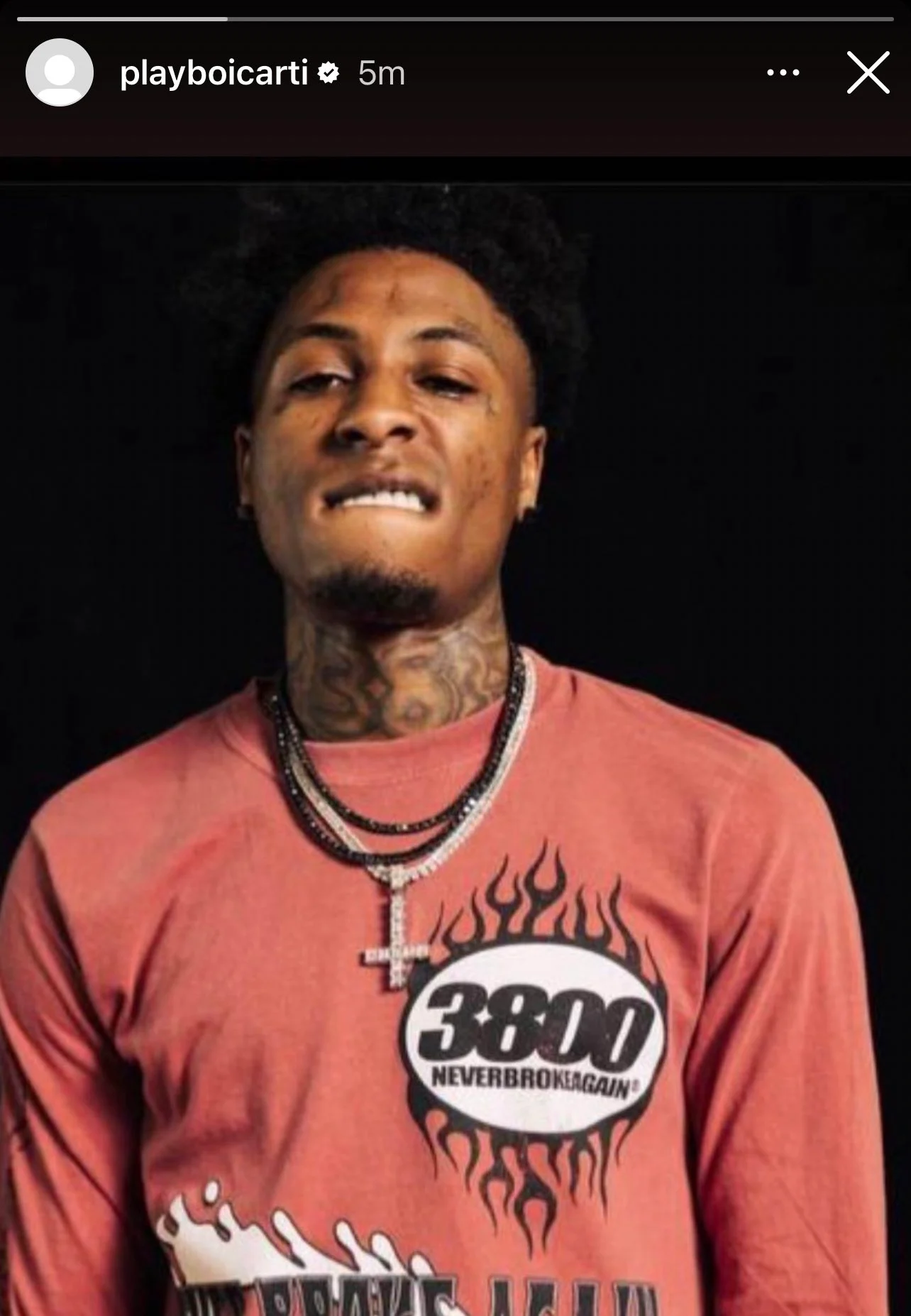 The glistening diamonds line the flat chain links that go around the neck and along the upside-down cross.
In the meantime, this would be the first time that both rappers are collaborating, sparking excitement among fans. For YoungBoy, he has never released a joint album before, although he has released six collaborative mixtapes, including "Fed Baby's" with Moneybagg Yo, "Kane and O-Dog" with VL Deck, "Nobody Safe" with Rich The Kid, "From The Bayou" with Birdman, "Better Than You" with DaBaby and "3860" with Quando Rondo.
As for Playboi Carti, his most recent project, A Whole Lotta Red released in 2020, peaked at No. 1 on the Billboard 200 chart. The rapper also recently launched his own label, Opium Label, and has signed and released songs from young artists, Destroy Lonely and Ken Carson.
As for YoungBoy, he is also now working under his own label after striking a deal with Motown following his tumultuous departure from Atlantic Records.
Last year, tensions escalated between YoungBoy, hailing from Baton Rouge, and Carti from Atlanta, when accusations arose that YoungBoy imitated Carti's style on their joint project with DaBaby, titled "Better Than You."
The album commenced with the track "Hit," featuring a hazy, video game-inspired beat that bore resemblance to the production found on Carti's A Whole Lotta Red. YoungBoy adopted an intense, rapid-flowing delivery that drew comparisons to Carti's signature style, particularly his alter ego, King Vamp. This similarity was even more pronounced in YoungBoy's vocal tone, which closely mirrored Carti's distinctive baby-like babbling, notably evident on the song "Syracuse."
Adding fuel to the fire, shortly before the project's release, the Never Broke Again leader began sporting goth-inspired makeup, reminiscent of Playboi Carti's rock star aesthetic, in several of his music videos. YoungBoy expressed that this style choice brought him a sense of comfort.