Stefflon Don is in her feelings after hearing that her ex-boyfriend Burna Boy might have moved on with another Jamaican gal.
The news hit the web on Friday that Republic artiste Jada Kingdom seems to have taken a spot in Burna Boy's life. Discerning fans noticed that she has been sporting Burna's 'Damini' diamond necklace in recent days while in London and have been convinced that they are seeing each other.
There has been no conclusive evidence that the two are romantically involved except for a deep dive into her social media account showing that she is also in London, where Burna Boy performed last weekend at a sold-out 80,000 max capacity stadium in London.
Burna Boy is also the headlining artiste for the Champion's League Final on Saturday. While Burna Boy and Jada have been quiet, Stefflon Don has broken her silence, and it seems that she believes that Jada has betrayed her by dating her ex.
"And this is why I don't fren up no wh**ing gal," a scathing post on her Instagram story said.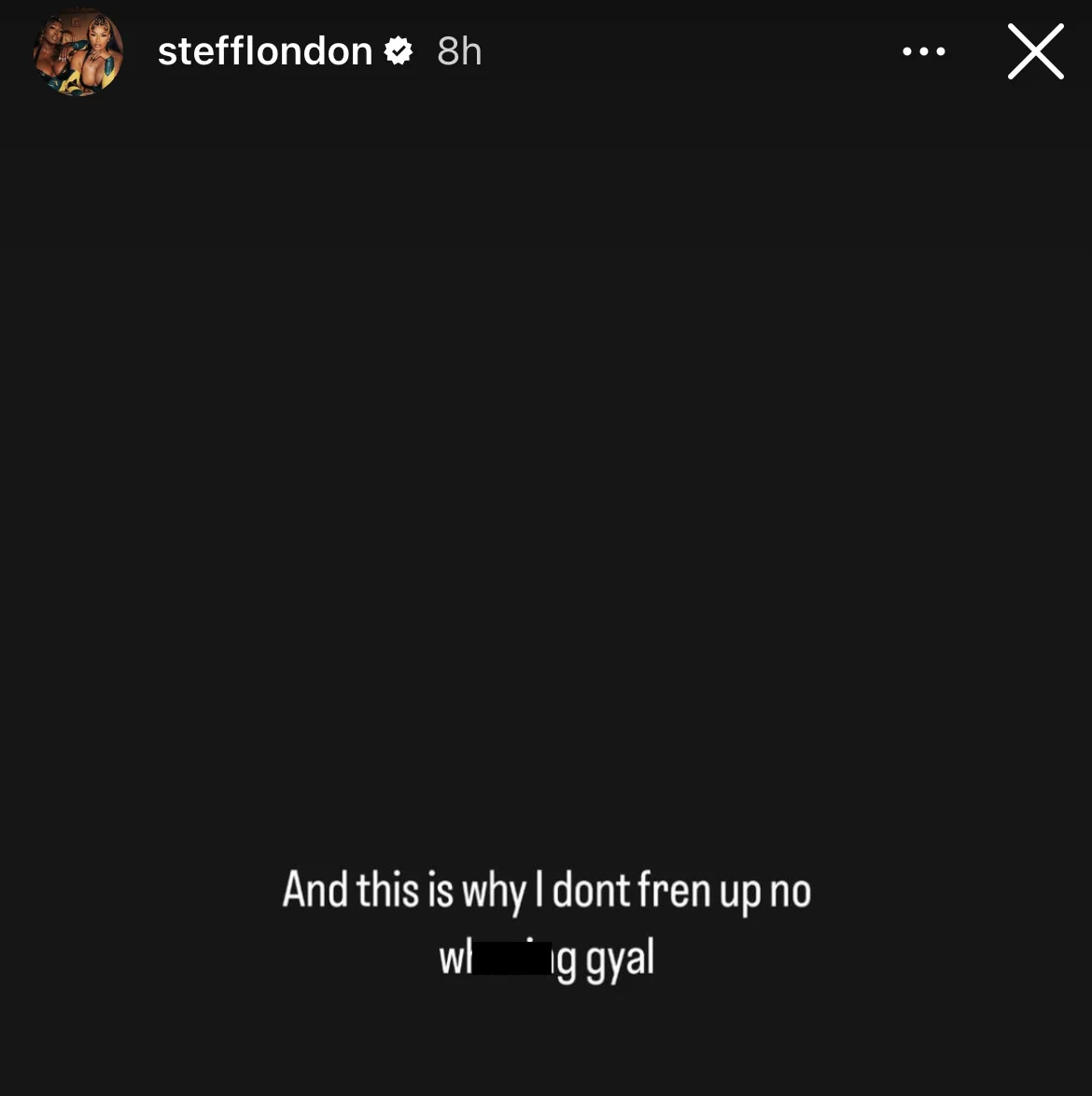 She hasn't said anything else, but the post was not unnoticed by fans who reacted to the entire saga.
"I thought it was weird Jada dating hym tho, like she did a wait pon di gyal fi left har mon," one fan said.
"I was saying this the moment I heard the news .. Jada use to be all up in her and her sister comments .. so naturally girl code u don't tek my leftover," another agreed.
Another added, "it's like a spit in the face, because in steff defence the world knew she and Burna was in a serious relationship, and Jada always a laugh up and a chat up to the lady, basically you would say they are acquaintances and regardless of the two not working out together, Jada decided to be with him, when I tell you , us women are our worst enemies, but if Jada think that union is going to last, IT WONT, so she better protect her little heart."
Jada Kingdom spotted rocking Burna Boy's "Damini" chain pic.twitter.com/O3Ar5J6aVt

— Glock Topickz (@Glock_Topickz) June 9, 2023
Burna Boy and Stefflon Don broke up two years ago after he allegedly cheated on her repeatedly with another woman. The two appear to be in their feelings up to last year when he released his Toni Braxton sample, "Last Last," which spoke about him needing marijuana and alcohol to cope with the break-up.
Neither of them appears to have moved on since then.
As for Jada Kingdom, this is the second time her name is called up in friend betrayal. Last year she and Asian Doll had a bitter spat after falling out, with the rapper revealing that she had transactional sex for $10,000 with Fredo Bang. Jada later admitted it was true, but Asian had the figure wrong as it was $30,000, which impressed many of Jada's fans.
In recent days, Jada's extravagant gifts, including a Birkin bag, have been celebrated by her fan base, who believe that the African Giant must spoil her if he is dating her.