Over the weekend, the Queen of Dancehall, Spice, and D'Angel make peace after years of misunderstanding and subsequent beef.
The artists met up on the red carpet at the IRAWMA Awards over the weekend, where they shared pleasantries and also took the time to unblock each other from social media.
While on camera with On Stage, the artists went into their accounts to follow each other, and Spice realizes that she never blocked D'Angel, but rather it was the other way around. After sharing jokes, D'Angel declares, "We just unblocked each other so we're friends again and we'll never be childish again."
Spice and D'Angel fell out in 2019 over their "No Worries" collaboration, where the latter bashed Spice for expecting to be praised for the collaboration and thinking it made some material difference in her career.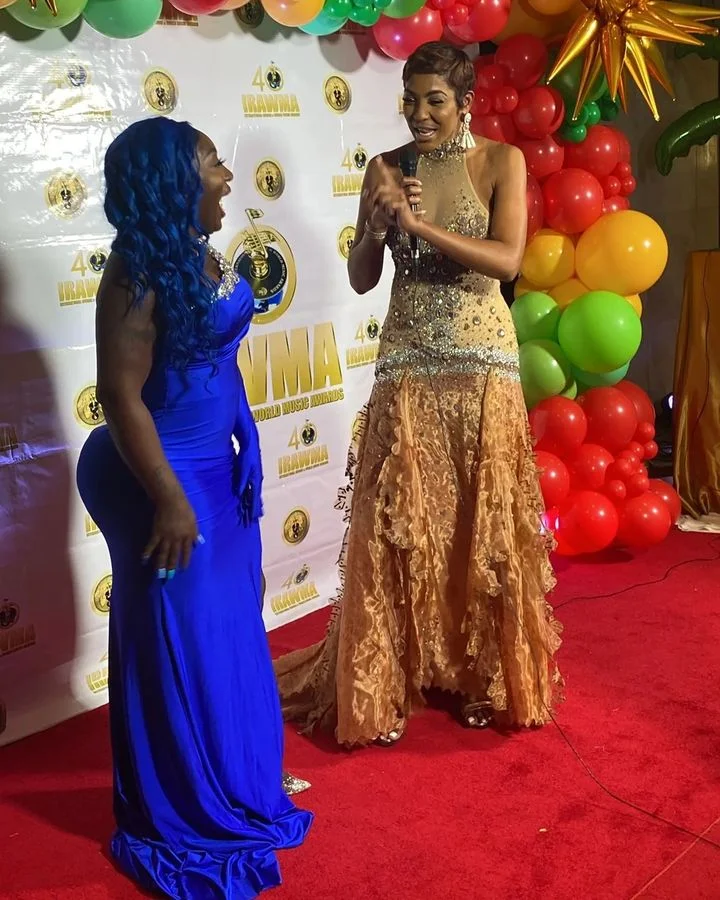 D'Angel had hinted that Spice was the one who begged her to collaborate despite the rantings of Spice that female artists wanted to use her to launch their careers, and she did not get any recognition.
"Which woman yuh ah empower? Yuh a di quickest woman to tear down a next woman inna dancehall, outta dancehall, anywhere at all. How mi a guh come ah yuh Woman Empowerment All come support yuh? Eh? That means that (all) along yuh a hypocrite and hate me," D'Angel said.
The women also took jabs at each other on their respective Instagram accounts, with Spice subbing D'Angel, who made a post about her natural "good" body.
Spice wrote, "How yah model say yuh body good and yuh can't keep no man, yuh f**k the 2 don and still no keep one," the "Cool It" singer wrote. "A wah do f**ky f**ky demon???. Yah worry bou mi do body well like how mi a get back fat, meanwhile mi a do mi lipo yuh betta come do yuh pussy and low mi?"
Over the weekend, the women buried the hatchet as they appeared on stage together and performed their song "No Worries."
Spice was also voted Global Queen of Dancehall by fans. Wearing a royal blue gown, the artist looked stunning in the curves hugging number as she thanked fans.
"It's 20 years now since I've been in the business, and I don't take this lightly because I feel like I'm reaping the seeds that I've sown for 20 years. And as a black woman sometimes when we buss through the door and the gate and do the things weh make it feel like it was impossible. We have to feel good about ourselves, big up me for being consistent, for fighting hard and breaking barriers, believing in my dreams and chasing it," Spice said as she thanked industry figures that supported her career and fans who continue to support her.