Gucci Mane artist, Ralo, denies that he "snitched" in his recent drugs conspiracy case after his friend shared a recording of their phone conversation where he is questioned about a proffer he gave to cops.
Ralo, whose name is Terrell Davis, was sentenced to eight years behind bars but will get credit for the four years he had been incarcerated and further sentence deductions of 1.5 years for good behavior. He had pleaded guilty to six counts, including conspiracy to possess with the intent to distribute at least a kilogram of marijuana, felony possession of a firearm, and money laundering.
Ralo is expected to be released sometime this year if he completes a drug rehab program, but he'll be on probation for five years.
On Wednesday, his friend released a recorded phone call where he accused the Atlanta rapper of having his lawyer seal the record so it couldn't be examined.
"It's n black and white, bruh. I'm reading your lawyer pleading on your behalf trying to get your record sealed because of this information that you gave. You said that you never said you didn't do it but you had me believing that for five years that you kept it solid," the friend says in the video.
He added, "In the paperwork, it says that in two months, y'all got locked up April and on April 6 you gave a proffer…You gave them the code to your phone and let them review it in your presence. That's what the paper says," the friend said.
Ralo is heard telling the friend, "The documents you seeing is from a prosecution misconduct," but the friend seems convinced otherwise. "If you saying you just gave them just the phone information cause you knew nothing was on the phone what about this shit on line 12 on page 13 where it says he's cooperating?" he asked.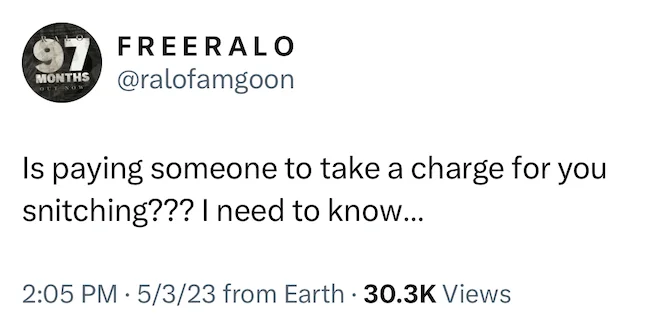 Ralo also reacted to the phone call being released. "These n****as be on that ole police s sh*t recording n****gas to get clout," he wrote.
In a lengthy post on his Instagram, Ralo again reiterate that he paid someone off to take charges for him. "Even the brothers you pray with will be praying on your down fall, but I clearly can spend my money on wtf I wanna spend my money on, it's my money," Ralo wrote while sharing a video of himself and a group of men praying. "Shidd I'll spend my last dime to get out if I had to. I know plenty people willing take ah bag right now to take these charges an pimp the feds."