Chance the Rapper seems to be hinting that he and his wife Kirsten Corley-Bennett are good despite her recent post reacting to his Carnival twerking in Jamaica.
After videos were shared online showing him getting dances from various women during Road March, the rapper came under fire from fans and social media users. Many felt that Chance was married and should not have been out whining on random women, although others defended him, especially since a dance during Road March meant nothing since it was commonplace for strangers to dance with each other.
On Friday, he seemingly reacted to his wife's post as he shared a video of comedian Bill Burr saying, "I love everything about being f**king married," he loved his wife to death, but they fight a lot.
The comedian goes on to say that he and his wife argue a lot, but in the five years they've been married, they both have been working on the husband, hinting that the husband is always at fault.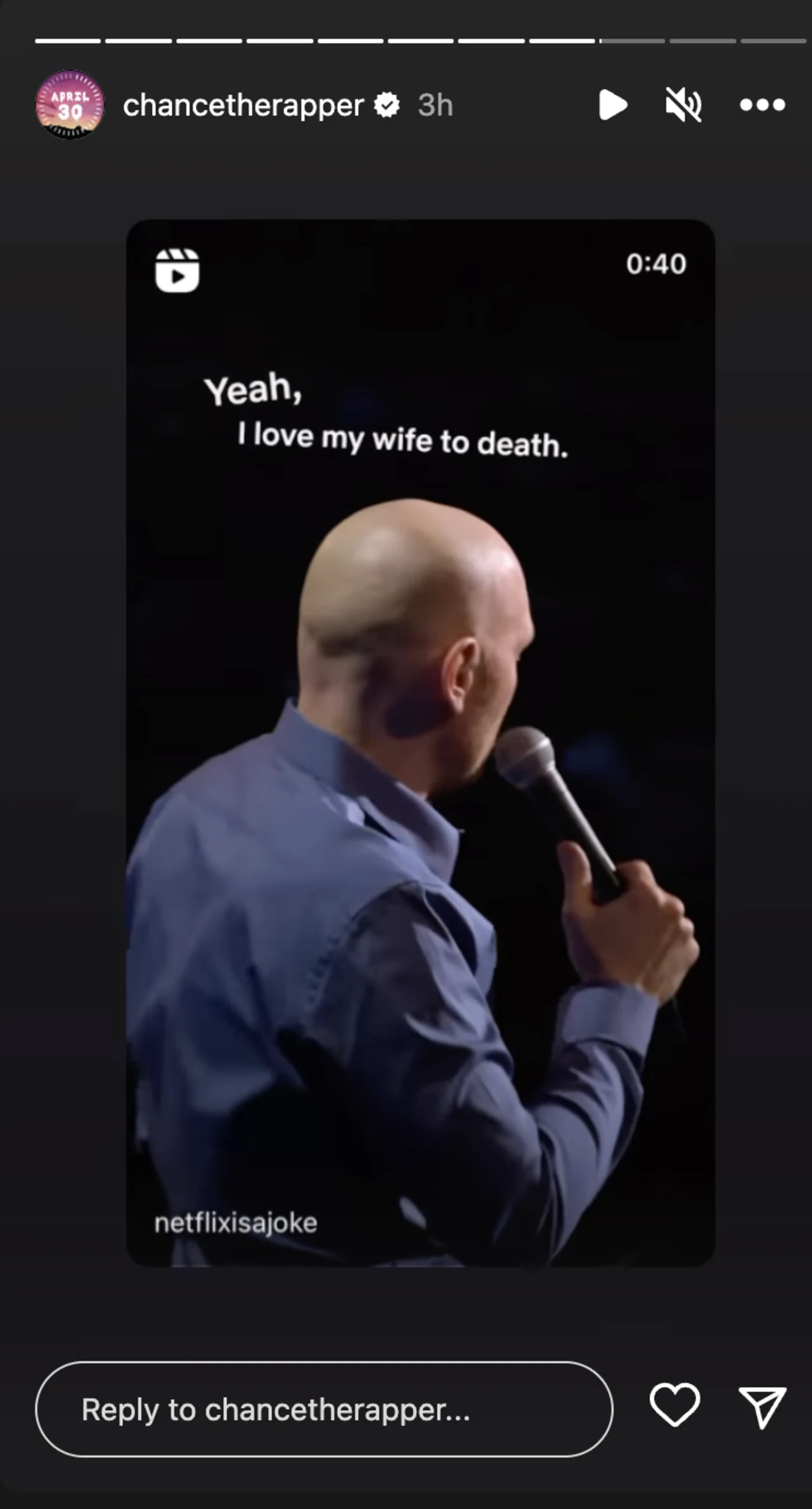 "If I've learned anything in five years of being married, is we're always working on me. You know?" the clip of Burr continues. "Evidently, my is this completed work under museum glass that is to be admired and studied, like, 'Hmmm, how did she do that?' And I'm like one of these… You know those buildings that just has scaffolding around it for, like, six straight years. 'Are they ever gonna finish that thing? Is that some sort of insurance job?'"
His latest video comes days after his wife posted a passage from Maya Angelou's book, "Letter to My Daughter," book which spoke to people getting married but not growing up.
"Most people don't grow up. It's too damn difficult. What happens is most people get older. That's the truth of it. They honor their credit cards, they find parking spaces, they marry, they have the nerve to have children, but they don't grow up," part of the highlighted passage read.
"I hope one day, we all choose to grow up," she captioned the photo.
Chance's latest post on Friday followed the release of his new music video "$WISH," featuring his Black Starline Fest collaborator Vic Mensa. The song is already causing a stir as it promotes twerking.