Brianna Destiny McKoy was reportedly found dead in her condo in Bridgeport, Connecticut, on Thursday night, sources close to her family said. Brianna was the daughter of legendary dancehall DJ and Sound System Selector Ricky Trooper from Killamanjaro and Sound Trooper Sound System.
Connecticut police confirmed that the 23-year-old was discovered unresponsive around 11:20 am at her home, 333 Vincellette Street in Coachlight Square condos, where she lived with her two children. Police Captain Kevin Gilleran confirmed that the deceased was shot several times. Police were unable to perform emergency services as the victim had already passed away when cops arrived.
"This appears to be an isolated incident where the victim knew her attacker," Captain Kevin Gilleran was quoted by media reports. The incident shocked the quiet Bridgeport community.
The police asked that citizens report any tips or information to Homicide Detective Keith Hanson at 203-581-5243 or 203-576-TIPS. Police also put out a wanted poster for Derrick Francis, a 40-year-old man cops say is armed and dangerous.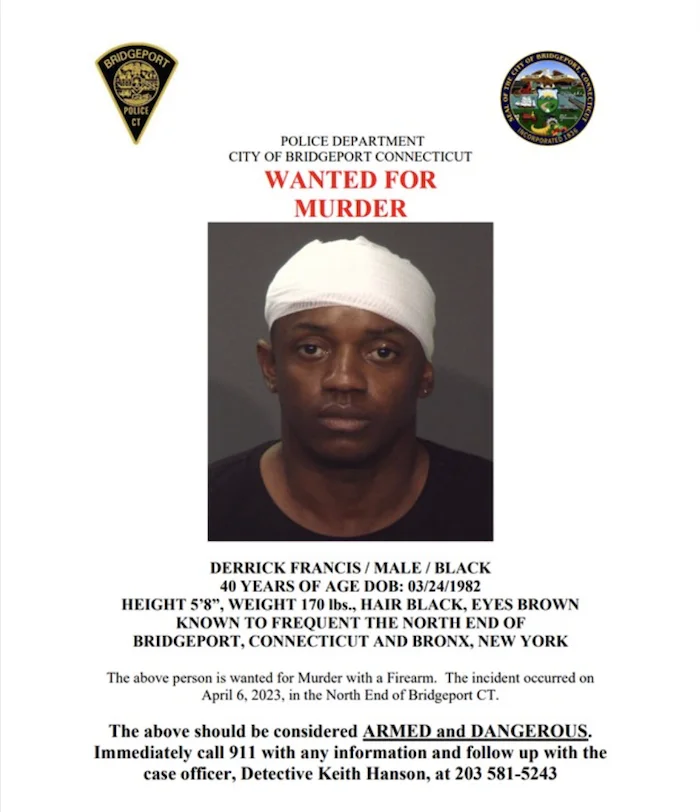 Ricky Trooper, whose real name is Garfield Mckoy, has not reacted publicly to the news of his daughter's killing. He was reportedly close to his daughter and has often shared his love for her. The death has sent shockwaves in the dancehall community as fellow artists shared condolences to Trooper. Among those who sent words of comfort were Bounty Killer, Busy Signal, Foota Hype, Jesse Royal, Bugle and many others.
"Mi nuh like one bone inna @rickytrooper876 but mi worse nuh like this my condolences goes out to her family and friends the kids are innocent send it around the villages are responsible for our children play unuh part folks let's bring him to justice now," Bounty Killer said.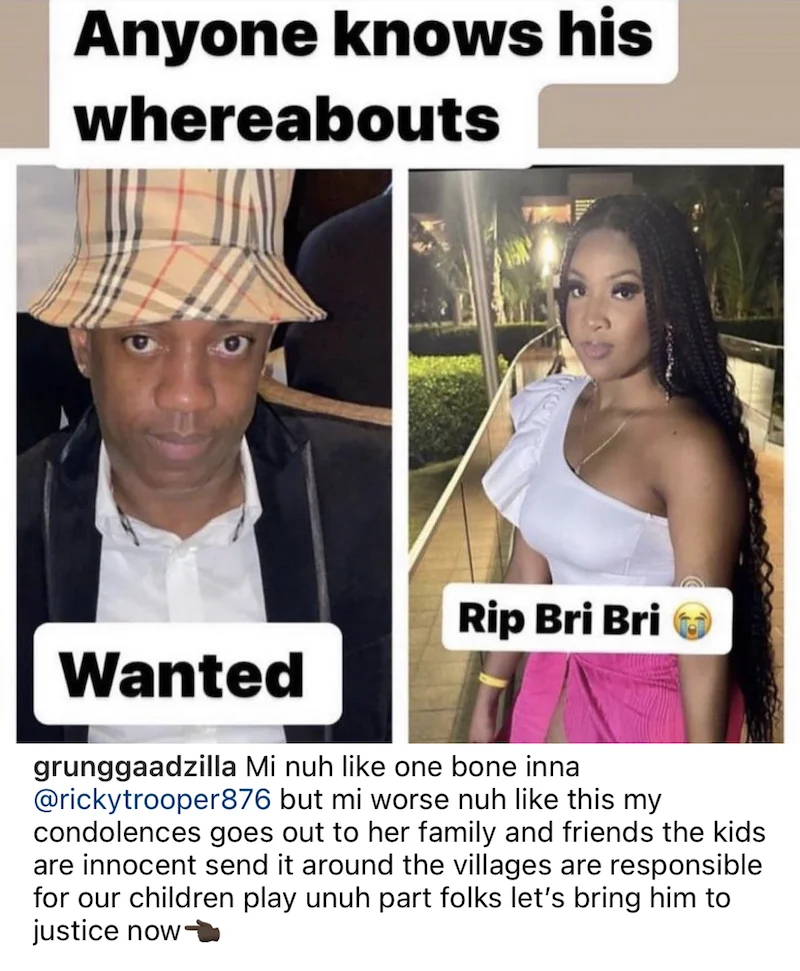 "This is really sad bad this ruff @rickytrooper876 I don't know how u feel I don't know what to say this is painful," Foota Hype also captured a photo of Brianna and her baby father.
"This one hit home star this boy come kill Ricky trooper daughter god know star this one hurt to the cure people who know his whereabouts send him out asap anyone in connecticut and it's surroundings," DJ Alpachino wrote.
Online reports show that Brianna was being abused by her baby daddy, but she remained in the relationship because of her two children. Some of the details of his abuse have been revealed by the popular blog site Jamaican Matey Groupie, which said her boyfriend would constantly abuse her over things like her breasts sagging after giving birth.
In the meantime, police are on the hunt for the murder suspect, 40-year-old Derrick Francis, who remains at large at the time of this publication. Ricky Trooper fans are also reacting to the horrendous killing of his daughter by showing him support.
"Jah know star what my fellow jamaicans dealing with how the demons just let loose so no man don't believe in God no more no man don't fear God no more bounty I respect you for this my fellow Gemini brother now in the last days mankind is so desperate they will do anything wicked just to be on top I'm going to give you all an advice all of this is going to stop sooner than you think let me spell it out anyone who supports domestic violence or killing women anyone who having sex with under age kids or forcing anyone for sex without consent or posting anything that supports this movements of this wicked act will be charged and be fine locked up and serve a maximum time with hard labour you have been warned read carefully what I write it doesn't matter where you are in the world Scotland Yard is going to kick your door in they take these things seriously here in England nuff respect bounty killer continue to do the good work your mom is smiling and say thanks my son blessings my family," one fan shared.