Lil Durk says he is about to drop his new album and has seemingly sends some subliminal messages to his opp NBA YoungBoy.
The OTF rapper has been teasing new music for the past couple of weeks, and it appears now he is finally ready to drop. While he didn't reveal a release date for the album, fans can expect it before summer this year. In a series of messages shared on IG, Lil Durk let an unnamed person know that he paid his dues, so don't call him about anything anymore. "I'm not saving nobody don't call smurk," he wrote.
"Lawyer money to the guys who died from every block I paid up they moma and paid funerals & bills put kids in house who everybody respect OTF did this go askt at h other cap we ain't tryna hear it watch how you respond anybody think before you speak on willow well type," Durk added in another statement. "let's give back to the kids and see who really care bout the hood and where they come from they need it like we did the voice fr match our money we got 250k OTF WE IN IT TOGETHER."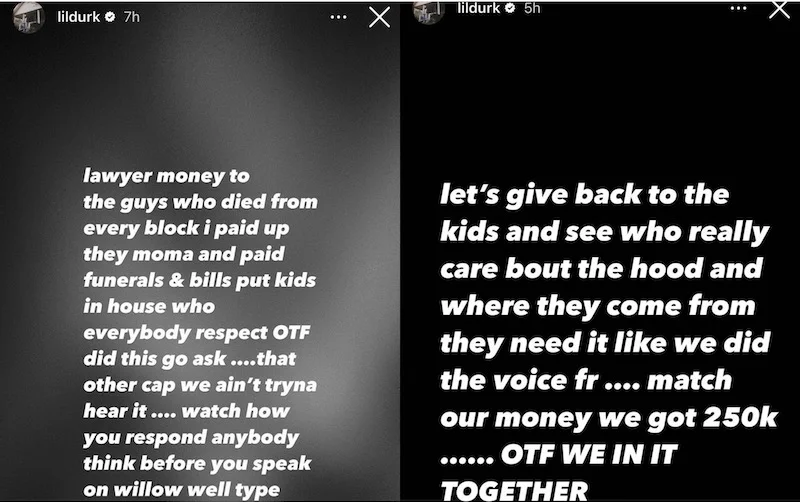 While Lil Durk didn't name anyone specifically who he is sending his messages to, his ongoing beef with NBA YoungBoy and Quando Rondo became a hot topic recently, resulting in his ex-girlfriend India Royale having to get involved and send a few messages to YoungBoy Never Broke Again on Twitter.
"When my album drop don't call me on that soft ass sh*t," Smurk wrote.
The Chicago rapper has been having a rough past couple of months following his breakup with his baby mother, India Royale. The former couple appears to be back together after Durkio went on Instagram Live last night and shared he was with a female who appears to be India Royale. Their reunion comes weeks after she went on vacation in Thailand with her friends. At the time, Lil Dirk vows not to give up on his relationship with Royale. The couple never shared why they broke up, but she shot down rumors that it was over an alleged outside child.
Lil Durk is fresh off a well-received performance at last weekend's Dreamville Festival in North Carolina. He also offered up some insight into his upcoming music during his set, telling fans that he has been in the studio with Dreamville principal J. Cole. Durk also recently dropped some hints that Drake might be a guest on his upcoming project. He has worked with Drake in the past, so the two are in familiar territory.