Nicki Minaj says she is heading to Jamaica Carnival 2023 next after creating waves in Trinidad this week. The "Super Freaky Girl" rapper is also showing Foota Hype love.
Yesterday, the rap veteran stopped by Instagram to give Foota Hype a shout out where she called him "mi general." Foota quickly responded saying, "happy to see you back in full effect queen I'm reviewing your new song tomorrow a chubble lol."
Nicki Minaj then revealed that Trinidad isn't the only carnival that she is planning to attend, but also has her eyes set on Jamaica. "[Foota Hype] need you to go brazy when you playing it," she said. "We need @ next Trini carnival and I'm going to JA carnival."
Nicki Minaj is showing major love for her birth country Trinidad as she celebrated Carnival Monday in the twin island republic with some of the stalwarts of soca music.
The artist says in a new clip that she will be repping her "real flag" after years of not only repping Jamaica but also enjoying the sounds and mimicking the language of Jamaican people as well as their music.
Nicki Minaj's embracing of Jamaican culture and people has led to many conflicts with her own countrymen who publicly bash her for not promoting Trinidad more, although Minaj grew up in the United States and has been influenced by the Jamaican diaspora community, including her ex-boyfriend Safaree Samuels.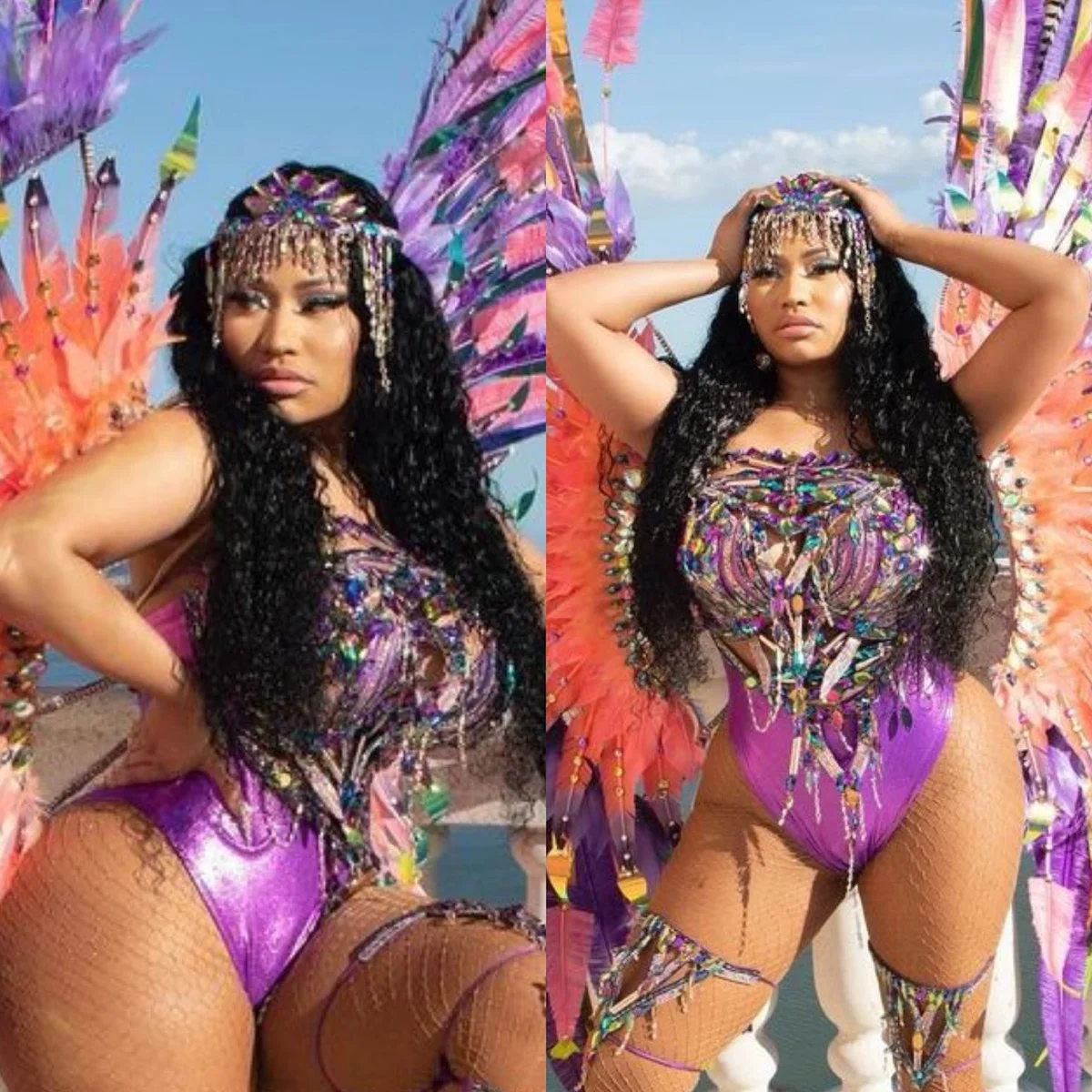 The artist has been on the island following her "Shake The Place (Remix)" collaboration with Machel Montano and Destra Garcia, released ahead of Carnival week. This is her second public appearance since last July at her Essence Festival performance in Louisiana and a few firsts since she gave birth in 2020 and took a break from the music scene.
On Monday night, Minaj shared several photos and videos of herself enjoying Carnival Monday, including her sexy outfit, which included short shorts, heels, and a bustier style top that accentuated her large breasts.
The rapper also shared a message on her Instagram account, which is bound to stir up a little island rivalry.
"Legendary footage with the greats of my country. I couldn't be more proud if I tried. I reppin dat red dat white dat black I reppin my real flag," Minaj said.
She added a sentimental note as she shared that embracing her culture and heritage was important to her late family members.
"Wish my grandmother was alive to see. Wish daddy was alive to see this. See you tmrw, Trinidad," Minaj hinted at Carnival Tuesday festivities that will likely bless her fans with her costume look.
In the video shared on her Instagram, Minaj said- "Queen things, king things that's all that comes out of Trinidad."
Nicki Minaj also shared that she was at peace being at home where her ancestors rested.
"My spirit is soaring. Thank you for noticing. Great ppl around me, too but that glow/happiness is coming from inside. From God. Gratitude," she responded to a fan.