Ice Spice and Lil Tjay sparked dating rumors after he gifted her a Richard Mille watch for her Valentine's Day gift.
Ice Spice is the new viral it girl in hip hop, and like everything that she does, her unearthed high school volleyball photo is making the rounds on the internet. Coupled with her new expensive piece of jewelry from her collaborator, Lil Tjay, you will surely find her in the headlines today.
The "Princess Diana" rapper's meteoric rise in rap in the last quarter of last year caught everyone by surprise. Not even she knew that "Munch (Feelin' U)" would amount to be her first blockbuster hit. The song has changed the course of her career and perhaps the rest of her life.
Ice Spice's humble beginning in the Bronx is overshadowed by her immense success in music and pop culture over the last several months, but every now and then, we get a glimpse of what life was like for her growing up in one of the most famous cities in the world, New York.
While she has opened up about her past in recent interviews, fans are still eager to learn more about the 23-year-old rapper's past, and that's why a simple photo dated back to her high school years playing volleyball is now going viral online.
The photo shows Ice Spice, real name Isis Gaston, wearing the number 4 jersey and sporting a smile and her now iconic red curly hairstyles. In the photo, she took a kneel with her teammates.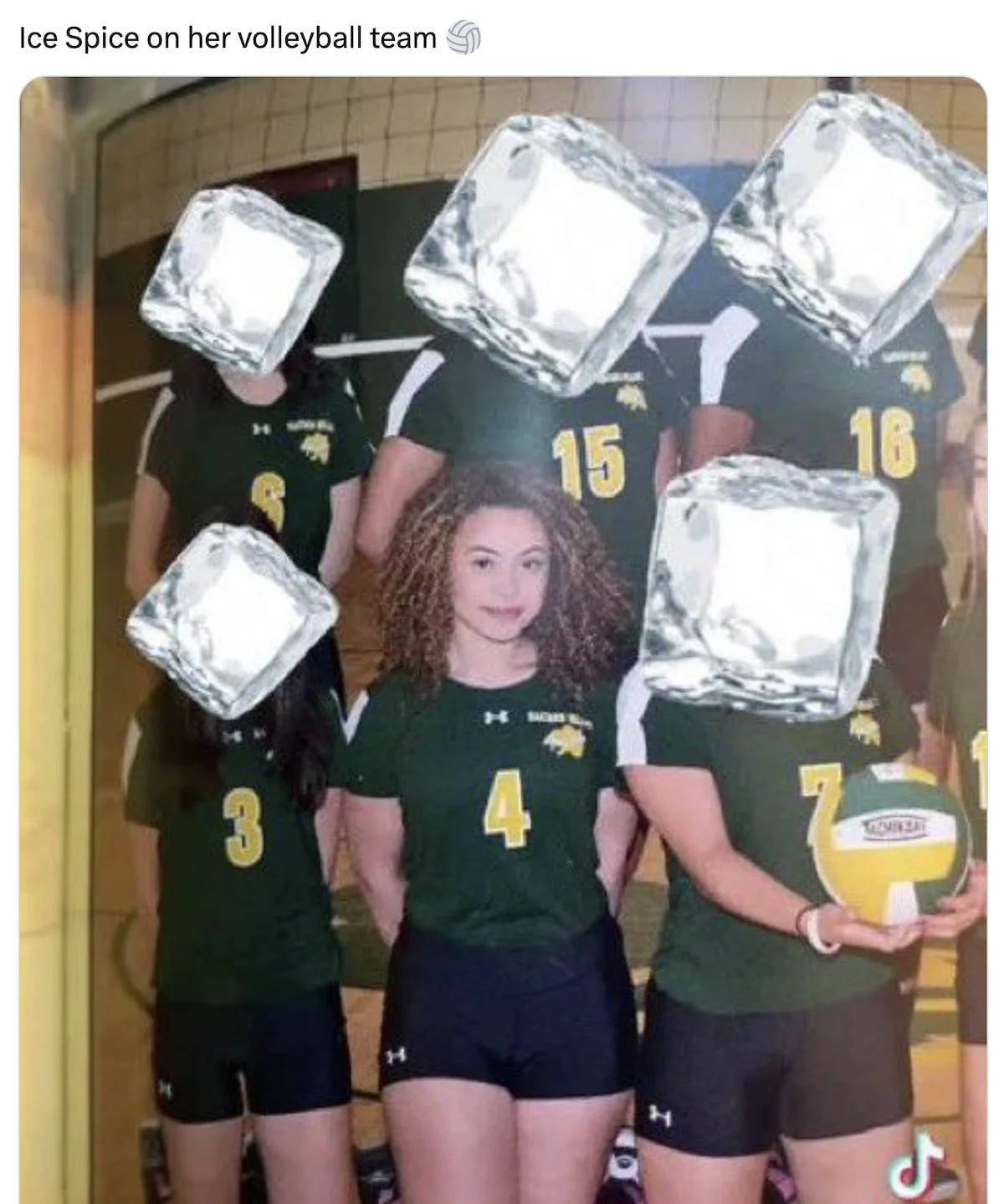 Fans have been speculating for a few months now that Ice Spice and Lil Tjay are dating since they made a public charitable appearance together around Thanksgiving last year. Perhaps Tjay sealed the deal since that day and is now showing out big time for Valentine's Day. The young rapper visits famous jeweler
Benny Da Jeweler for the pricey Richard Millie RM-05 in rose gold. The watch cost around $160,000.
Ice Spice and Lil Tjay recently collaborated on "Gangsta Boo" off her debut EP, Like..? The track samples Diddy's 2000s classic "I Need a Girl (Part 2)."
On the catchy single, Ice Spice raps, "Bae, I just wanna do what you do/ F— your thots, I'm takin' they spot/ B–ches know that I am what they not/I'm a help you get back at the opps/ Bae, can I come when you spinnin' they block?/ And I swear that you be on my mind/ Yeah, I'm lit, but for you, I'll make time)."
Lil Tjay also roots for her in his verse, letting her know he is nothing like the other rappers in the game.