LaNisha Cole is putting to bed rumors that she is pregnant with her second child for Nick Cannon.
Her followers and fans of Cannon have been speculating that she might be expecting another baby after she posted photos of herself appearing plump in the face and waist area. However, Cole later released a video and several messages on Instagram denying that she was pregnant.
"No I'm not pregnant again," the former model and photographer wrote on her Instagram Story on Thursday. "You guys are so used to SnapBack culture that you can't let a woman be at peace with not losing her baby weight in a week. My body is bigger and I'm not in any rush to lose the weight. It'll come off in due time. Until then, there's just more of me to love," she said with laughing emojis.
She later posted a video where she shared, "as a new mom I have so many other things that are more of a priority for me. Empress Onyx has been ruling my life and I'm ok with it. She's the boss of me. I'll work out again when she allows me to."
In a follow-up video, she said, "Definitely not pregnant again. Just thicker in the waist, thicker in the face. That's it. I haven't been working out as I used to…life happens you know what I mean? but I'm not in any rush to lose the weight."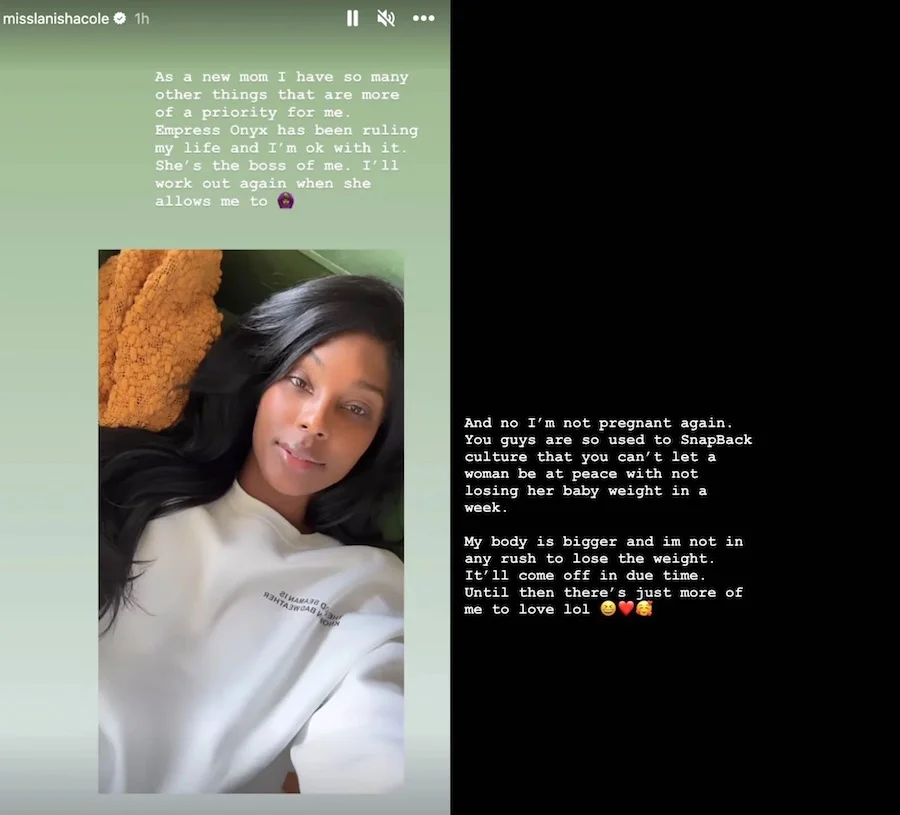 Cole gave birth to Nick Cannon's ninth child, Onyx Ice Cole Cannon, back in September. If Cole is pregnant again, this would be Nick Cannon's thirteenth child.
In the meantime, while those speculations are happening, it appears that Cole and Cannon have been broken up.
Last December, Cole shared a post of the song "Ciara's Prayer" by Summer Walker and Ciara asking for the next man she dates to be her husband. The post was made a day after Cannon shared that he welcomed his 12th child, a daughter named Halo Marie Cannon, with model Alyssa Scott, their second child.
In the meantime, Cole appears to be dating her close friend, Brian Paul Kuba. The couple recently went Instagram official.