Chrisean Rock says she's pregnant as she shared several positive pregnancy tests and excitedly told her thousands of fans that she is keeping the baby after having three abortions for Blueface in the past.
Last month there were speculations that Rock might be pregnant as she was seen refusing alcohol and conducting herself in a better manner. However, the past month has become more toxic drama between the 'Crazy in Love' cast members, and it appears that they've broken up.
On Friday night, the two appeared to have a continuation of an argument despite Rock apologizing for having a mental health episode the day before.
Blueface and Chrisean Rock began arguing after he called out her fans for supporting her irrational behavior, which included kicking a TV during a No Jumper interview.
"Alcohol isn't her problem her mentality is her problem all you people on here making excuses for a lack of self control an irrational behavior is contributing to the problem #accountability," Blueface wrote.
The rapper added that fans' claims that he provokes Chrisean are false as she has deep issues without him.
"When she displays this type of irrational behavior on baddies or blue girls club you guys applaud an cheer but when it's a different setting an it doesn't look as good you guys want it to be everybody else fault this is how she carry herself with or without me," he said.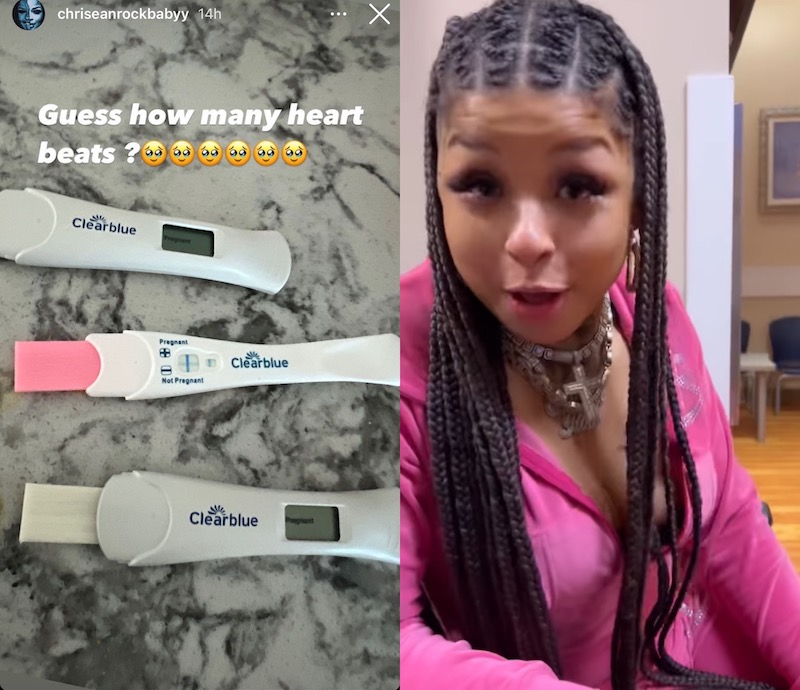 Blueface celebrated his birthday on January 20, and shortly after telling fans that he would be taking the day off to celebrate, Rock sent a curious tweet.
"Happy Birthday Baby Daddy," she said.
Blueface later replied that their relationship was over and denied that she was carrying his child.
"To answer y'all questions yes me an rock are officially done it's strictly business I tried it an clearly it wasn't giving before she announces… she's pregnant with somebody else's child not mine."
Blueface added a series of tweets denying he was the father.
Chrisean Rock has had encounters with ten different men in the last year until I see DNA test, then it's not mine," he said in one tweet.
"I know I know y'all thought she was all about me…me too lol but the facts are facts being my BM would be a blessing… She must be currently drinking while pregnant that's a red flag," he added.
The rapper also appears to beg God to let it not be his child.
On the other hand, Rock denied that she had cheated on Blueface and said she would gladly supply him with a DNA test and that she wanted to keep the child because she had aborted many pregnancies before.
"So what happens wen you eat all ya evil words … I haven't sexually been active with no one but u n plus there's can a DNA test… n ion need yo money I got my own I don't need a baby Daddy I'm just having this child because I don't want to keep aborting."
"Blue tred lightly God don't like ugly fr. Boy, I don't need you lol I want u that's the difference…Promise you. I don't need a cent from u . Then wen we do a DNA test and it's yours just know I'll tell my children you died so u wouldn't have a exuse to be in the child's life. This my baby n dats dat," she replied to him.
Rock later posted three positive pregnancy tests where she added a caption, "guess how many heartbeats."
Rock also went back on Instagram, where she shared a video at the hospital where she did a pregnancy test.
"I really put the news out because I want all the bad stuff to do it course. I'm saying I'm pregnant because I am keeping it," Rock said.
"You know you're the dad. I know for sure you're the dad. I haven't been sexually active with anybody else but you…who am I to announce the pregnancy and not know the dad?" she added.
In the meantime, her fans corrected her that three pregnancy tests didn't mean that she was having triplets because a sonogram alone could determine that. In the hospital, Rock said she wanted twins or triplets because of the babies she had aborted before (three).
In the hospital, she said she was hoping it was three heartbeats.
"We're gonna be a family, and we gon have the big baby shower. So yeah, pray for me," Rock said.
"When you pregnant, do you hear heartbeat or any beats you have to hear one? Cause I hope I hear three that's how many I killed," she told the nurse who was about to do her pregnancy test.
Rock has had encounters with 10 different men in the last year until I see DNA test then it's not mine ?????

— blueface (@bluefacebleedem) January 21, 2023
To answer y'all questions yes me an rock are officially done it's strictly business I tried it an clearly it wasn't giving before she announces…she's pregnant with somebody else's child not mine ??

— blueface (@bluefacebleedem) January 21, 2023
It's not a blueface baby ?

— blueface (@bluefacebleedem) January 21, 2023
She must be currently drinking while pregnant that's a red flag ?

— blueface (@bluefacebleedem) January 21, 2023